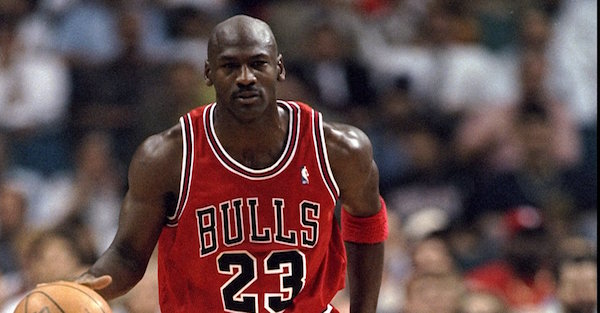 Andy Lyons/Allsport
7 Jan 1998: Guard Michael Jordan of the Chicago Bulls in action against the Miami Heat during a game at the Miami Arena in Miami, Florida. The Heat defeated the Bulls 99-72. Mandatory Credit: Andy Lyons /Allsport
NBA Hall of Famer and Charlotte Hornets owner Michael Jordan has officially given his support of athletes' right to peaceful protest during the national anthem in an official statement through the Charlotte Observer on Sunday night.
"One of the fundamental rights this country is founded on was freedom of speech, and we have a long tradition of nonviolent, peaceful protest. Those who exercise the right to peacefully express themselves should not be demonized or ostracized."
"At a time of increasing divisiveness and hate in this country, we should be looking for ways to work together and support each other and not create more division."
"I support Commissioner Adam Silver, the NBA, its players and all those who wish to exercise their right to free speech."
Jordan has notoriously kept quiet on political issues dating back to his playing career. However, he was candid in his stance about social injustice last year, when he told the Undefeated that he "can no longer stay silent" and revealed that he made a $2 million donation to help address police-related shootings.
"I was raised by parents who taught me to love and respect people regardless of their race or background, so I am saddened and frustrated by the divisive rhetoric and racial tensions that seem to be getting worse as of late. I know this country is better than that, and I can no longer stay silent. We need to find solutions that ensure people of color receive fair and equal treatment AND that police officers – who put their lives on the line every day to protect us all – are respected and supported."
The comments come after President Donald Trump discussed national anthem protests as "disrespect," saying that he would love to see an NFL owner "get that son of a bitch off the field."
The full quote from Trump:
"Wouldn't you love one of these NFL owners… when someone disrespects our flag say, "Get that son of a bitch off the field, right now, out, he's fired."
Jordan, who was enshrined in the Pro Basketball Hall of Fame in 2009, bought a minority stake in the Hornets (then Bobcats) in 2006 and became the franchise's majority owner in February 2010.
Through the increased value of the NBA franchise, as well as his Jordan apparel brand, he is the first billionaire NBA player in history and the third-richest African-American behind Oprah Winfrey and Robert F. Smith.