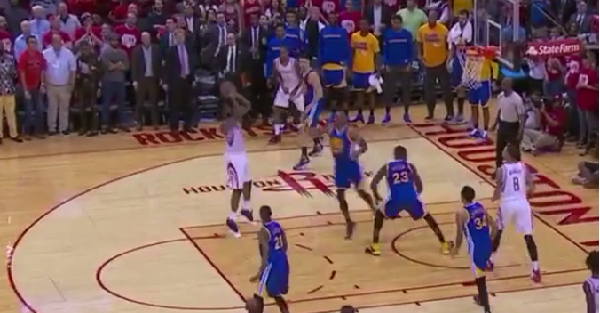 James Harden carried the Houston Rockets to a Game 3 victory against the Golden State Warriors on Thursday night and it came thanks to this game-winning shot.
That made it 97-96 in favor of the Rockets and that would be the end score. You would think his teammates would be excited about taking a game from the Warriors, but apparently only Clint Capela was stoked about it. Everyone else really couldn't care less.
But as it turns out, that shot from Harden shouldn't have counted according to the NBA. The league says that Harden pushed off Andre Iguodala to get his shot off and that should have been called an offensive foul. It was among five incorrect calls in the last two minutes, the NBA said in its assessment of officials' late-game performance dubbed the " Last Two Minute Report."
The Warriors had a chance to win it, but Draymond Green couldn't even handle the inbounds pass and might have cost his team the game.
https://www.youtube.com/watch?v=KtThtPmGljw
What's worse is that he almost compounded the problem by tackling a guy.
Somehow that went uncalled, but the Rockets got the ball inbounds and took the win in Houston to cut the series deficit to 2-1.