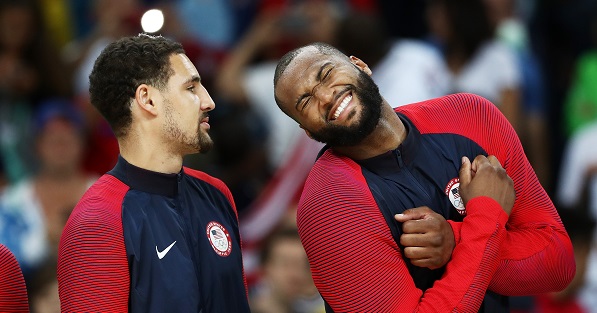 Elsa / Staff
RIO DE JANEIRO, BRAZIL - AUGUST 21: Klay Thompson #11 and Demarcus Cousins #12 of the United States react on the podium after defeating Serbia in the Men's Gold medal game on Day 16 of the Rio 2016 Olympic Games at Carioca Arena 1 on August 21, 2016 in Rio de Janeiro, Brazil. (Photo by Elsa/Getty Images)
DeMarcus Cousins is arguably the best center across the entire NBA. Despite questions about his effort on a yearly basis he's currently averaging career highs in points and 3-point percentage. Every season he looks that much more unstoppable with the only thing standing in his way being his own team.
The Sacrament Kings have never managed to put a playoff roster around Cousins despite his incredible talent, and it's led to multiple instances of Cousins butting heads with the organization. Despite these problems, it looks like the Kings are willing to pay big money to keep Cousins around.
RELATED: Draymond Green flips out on teammates in clutch situation
This is the new trend right now among NBA teams with a new collective bargaining agreement on the way. Instead of letting a player reach free agency, and try to get them the money they want there, teams are offering extensions mid-contract in order to lock their stars up before drama can begin. It's a good tactic and one we've already seen with other superstar players like James Harden. The problem for Sacramento is the past history they have with Cousins.
Extending arguably the best center in the NBA is a great idea in concept, but so far the relationship between Cousins and the Kings has been incredibly toxic. Multiple fired coaches, snipes through the media, suspensions, technicals, the list goes on to insane degrees. In one sense it's understandable why the Kings want to extend Cousins. He's an incredible player and if they can build a winning team around him then everything will fix itself.
If they do choose to trade him then having him on a longer contract will give them some more leverage on what they can recieve in return. However, with how bad the relationship between the two sides is right now it might be for the best if they just cut bait and start over. Letting go of a superstar is hard, but what the Kings may really need right now is a fresh start.