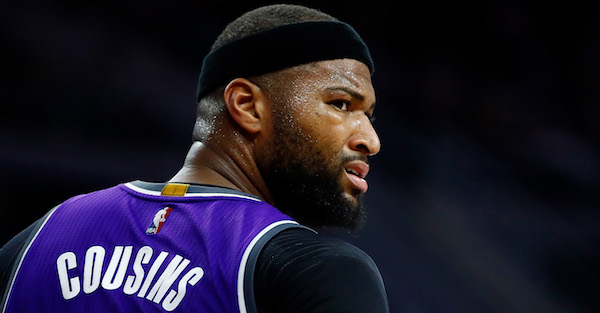 Gregory Shamus/Getty Images
AUBURN HILLS, MI - JANUARY 23: DeMarcus Cousins #15 of the Sacramento Kings looks on while playing the Detroit Pistons at the Palace of Auburn Hills on January 23, 2017 in Auburn Hills, Michigan. Sacramento won the game 109-104. NOTE TO USER: User expressly acknowledges and agrees that, by downloading and or using this photograph, User is consenting to the terms and conditions of the Getty Images License Agreement. (Photo by Gregory Shamus/Getty Images)
After a very slow start to his professional career, former Oklahoma Sooners standout Buddy Hield has actually progressed quite a bit lately. Yes, the rookie guard for the New Orleans Pelicans is still shooting a disappointing percentage for the season but, on the bright side, there have been flashes and Hield is beginning to look the part of a three-point specialist at the very least.
However, Hield had a very rough moment on Sunday evening and Sacramento Kings big man DeMarcus Cousins was on the receiving end of it. With the clock winding down late in the first half, Cousins went to set a screen on Hield in an attempt to free Kings swingman Ben McLemore of his defender.
The result… was this.
Hield was ejected with haste and that is, of course, the right decision. There are certainly better ways in which to "fight through" a screen and the motivation for Hield here remains in doubt.
To be honest, it is probably a good thing that Cousins was in physical pain because the incident easily could have escalated into something larger on the court. For now, it will be interesting to see if Hield earns a suspension or if there is further beef between the two in the future.