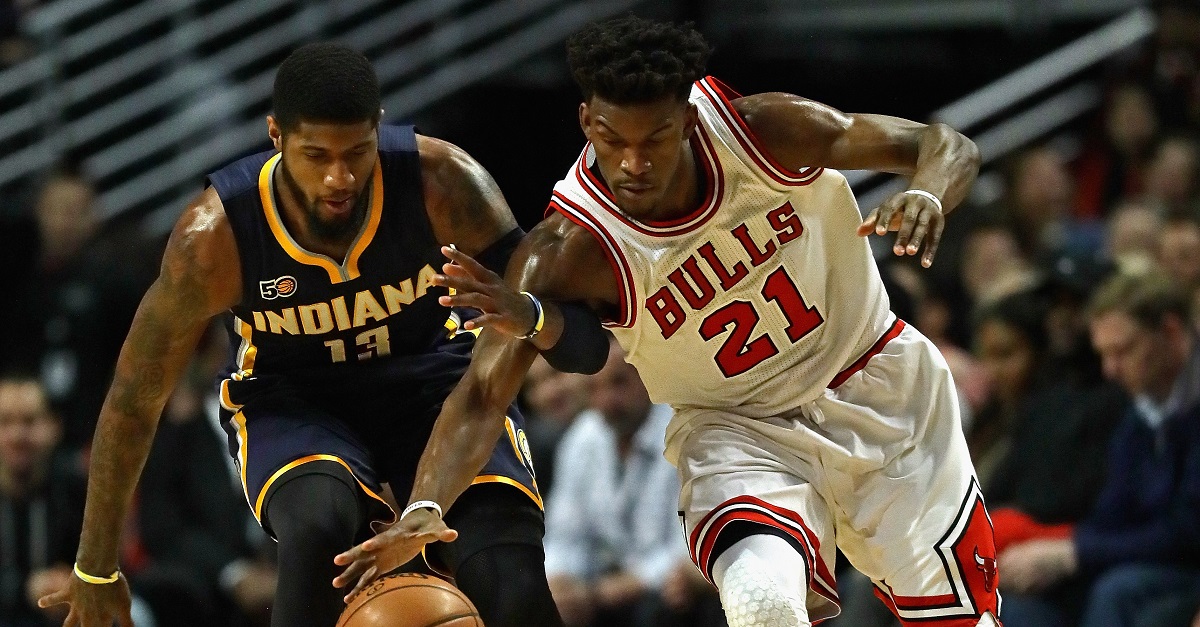 Jonathan Daniel/Getty Images
CHICAGO, IL - DECEMBER 26: Jimmy Butler #21 of the Chicago Bulls and Paul George #13 of the Indiana Pacers chase down a loose ball at the United Center on December 26, 2016 in Chicago, Illinois. (Photo by Jonathan Daniel/Getty Images)
The Chicago Bulls haven't had quite the season they hoped, and it looks as though it will end with out qualifying for the playoffs, too. The Bulls' best player, Jimmy Butler, has been mentioned in trade rumors for months now, and it doesn't look like that will be slowing down anytime soon.
Via Bleacher Report:
"Per Kevin O'Connor of The Ringer, citing a front office source, Butler is "as good as gone" from Chicago after this season.
Adrian Wojnarowski of The Vertical reported last month the Bulls ownership and front office needed to get on the same page to determine if a full-scale rebuild was necessary, adding the Boston Celtics made for a potential fit for Butler because of their future draft assets."
This is certainly an interesting development in the Jimmy Butler Trade Drama, as Butler will still be under-contract with the Bulls this summer, so if he is "as good as gone" from Chicago this summer, it will have to be via a trade.
The Boston Celtics have always made the most sense for Butler to land with their seemingly unlimited amount of assets, but O'Connor's source doesn't mention who Butler would like to get moved to or who the Bulls would be willing to trade him to.
Either way, don't this story to go away anytime soon.