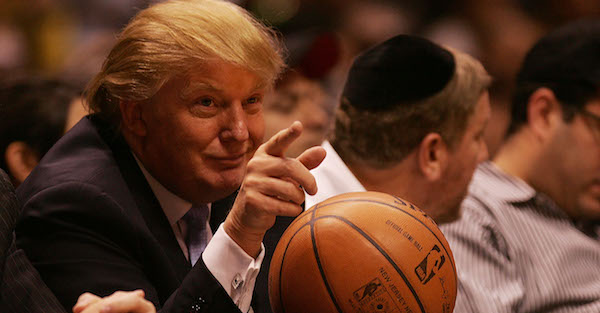 Nick Laham/Getty Images
of the New Jersey Nets of the Chicago Bulls at the Izod Center on October 31, 2007 in East Rutherford, New Jersey.
After Tampa Bay Buccaneers wideout Mike Evans made headlines with protesting president-elect Donald Trump by sitting during the national anthem (before backtracking on that decision), NBWeA teams are reportedly joining in on the protest, only in a different way.
Via ESPN:
"At least three NBA teams have stopped staying at Donald Trump-branded hotels this season in part to avoid any implied association with the new president-elect, according to league sources.

Sources told ESPN.com that the Milwaukee Bucks, Memphis Grizzlies and Dallas Mavericks have moved away from Trump hotels in New York City and Chicago, which bear Donald Trump's name through a licensing agreement."
According to the report, at least one other Eastern Conference team will move to another location next season after its contract with the Trump SoHo expires. Seven other teams reportedly currently plan to stay at Trump hotels this season.
Evans, who reportedly did not vote, released this statement after Sunday's game:
Here?s what he said per JoeBucsFan.com:
?I don?t want to, you know, disrespect the veterans or anything,? Evans said. ?The men and women who serve this country, I?m forever indebted to them. But the things that?s been going on in America lately, I?m not going to stand for that.?
Evans reportedly went on to make it clear his protest was of Trump?s election:
?If this happens, then America?s not right right now,? Evans said. ?I?m not a political person that much, but I got common sense. And I know when something?s not right.?

When asked if he?d continue to kneel, he said, ?As long as he?s the president elect.?
Evans later backtracked, releasing a statement Tuesday that said he will no longer remain seated during the national anthem and will be searching for more effective ways to express his message.
?I want to start by apologizing to all the U.S. military members, their families, and the fans who I offended by my actions on Sunday. It was never my intention as I have tremendous respect for the men and women who serve our country. I have very strong emotions regarding some of the many issues that exist in our society today. I chose to sit as an expression of my frustration towards this year?s election. It was very personal for me, as it was for so many Americans. With that being said, I will not sit again during the National Anthem because I want to focus my efforts on finding more effective ways to communicate my message and bring about change by supporting organizations and movements that fight for equal rights for minorities. This Sunday, I will be back to standing with my teammates.?
We'll see if any other NBA teams join the movement.