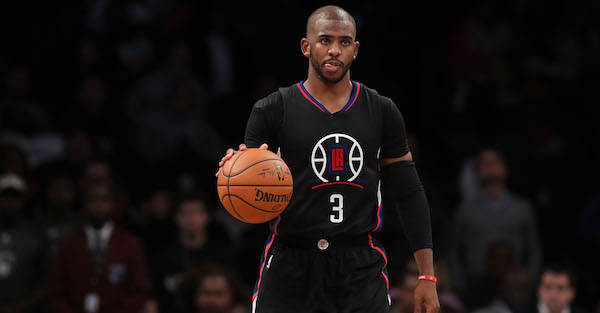 Michael Reaves/Getty Images
NEW YORK, NY - NOVEMBER 29: Chris Paul #3 of the Los Angeles Clippers dribbles the ball up court against the Brooklyn Nets in overtime at Barclays Center on November 29, 2016 in the Brooklyn borough of New York City. NOTE TO USER: User expressly acknowledges and agrees that, by downloading and or using this photograph, User is consenting to the terms and conditions of the Getty Images License Agreement. (Photo by Michael Reaves/Getty Images)
Chris Paul is one of the best free agents on the market during the 2017 offseason. With that said, the Los Angeles Clippers point guard can earn more than $200 million with a five-year deal to stay with his current squad and many believed that was a foregone conclusion. Still, there has been increasing buzz that Paul could consider leaving to join another team (i.e. the San Antonio Spurs) and that chatter hasn't faded just yet.
With that said, Adrian Wojnarowski of The Vertical sees the Clippers as an "overwhelming favorite" to retain their best player and he indicated the following to CBS Sports Radio with regard to San Antonio. (h/t NBC Sports)
"Not that I see. I don?t know where that came from, and I?ve spent a lot of time around the Spurs this spring. They would have to just tear up that entire payroll. It?s almost unlike anything the Spurs would have done or would do to. To even have a chance at him, they?d have to really gut the roster. And to do that for a 30-plus-year-old point guard, who has a couple great years left, there?s no question ? I think there?s more pressure on the Clippers to have to re-sign him than for the Spurs to turn their whole franchise over to make a run at him.

Listen, Chris Paul, financially, the difference with him being able to stay in L.A. and get paid, I?d still have a hard time imaging him leaving there. There?s so much money for him to be made. And in that Los Angeles market, in terms of his marketing endorsements, I still think they?re a pretty overwhelming favorite to re-sign him."
It was always a long shot in regard to San Antonio, if only because there would be several roster moves necessary to facilitate even the possibility of Paul signing a deal with the Spurs. Throw in the fact that Paul led the NBPA in negotiating a deal that specifically allows him to maximize his earning potential as a long-time veteran and the Clippers could have very little to worry about in early July.