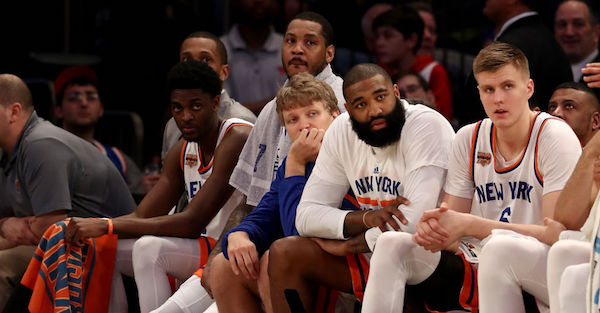 Elsa/Getty Images
NEW YORK, NY - MARCH 29: Carmelo Anthony #7,Mindaugas Kuzminskas #91,Kyle O'Quinn #9 and Kristaps Porzingis #6 of the New York Knicks look on from the bench in the fourth quarter against the Miami Heat at Madison Square Garden on March 29, 2017 in New York City. NOTE TO USER: User expressly acknowledges and agrees that, by downloading and or using this Photograph, user is consenting to the terms and conditions of the Getty Images License Agreement (Photo by Elsa/Getty Images)
Why are we doing this again?
The "this" that I am talking about is fans, writers and analysts talking themselves into the New York Knicks Might Be Going In The Right Direct Now narrative. It's natural, especially as a fan, and, in a vacuum, hiring former Sacramento Kings vice president Scott Perry to be your team's general manager is a defensible move. His background is solid, he seems to have had a hand in stopping the bleeding in Sacramento, and he just may have a better shot at reversing the Knicks' fortunes in Gotham than former Cleveland Cavalier general manager David Griffin simply because he is ostensibly going to try and find a way to make it work with the front office staff that's been in place since the Herbert Hoover administration.
But it's not.
The Knicks have been here before. When He Who Must Not Be Named, or Phil Jackson, was first hired by the team, this is how I described the Zen Master's decision to pick this organization to try and build a winner:
"We've all been driving down the road at one point or another and stumbled upon a disastrous car wreck and slowed down to quickly investigate the scene and satisfy our metaphorical gators. Phil Jackson is doing the same thing, but rather than merely driving past the scene, he's purportedly leaning towards getting involved in the disaster that is the New York Knicks."
If I were to write the same sort of Scott Perry Instant Reaction piece today, the lede would be eerily similar to what I had written in 2014. Because history repeats itself and the Knicks stay the Knicks. How much more do we really need to see from the James Dolan Experience to finally admit that, under his leadership, building a sustainable winner isn't going to happen.
But that's what makes sports so frustrating — we never know for sure. I don't think Perry, Steve Mills and Jeff Hornacek are going to create a team that will ever compete for an NBA championship, but I wouldn't bet my life on it because sports are weird and weird things happen everyday. (Tim Tebow has, like, an 11-game hitting streak as of this writing. Tebow!) I'd like to know for certain that an NBA team owned and operated by James Dolan will never win a championship, but I don't, and, because it's not a certainty, I understand why people are talking themselves into the Scott Perry May Actually Fix Everything idea. Doom and gloom is no fun, no matter the situation. (Never tell Knick fans the odds!)
It should still be expected, though. Remember, this is still a franchise that has placed and removed Carmelo Anthony from the trade market more times than Gob Bluth has realized that he's made a huge mistake. This is still a franchise that saw its best basketball executive — Donnie Walsh — resign from his position as general manager of the team. (It should be noted the next team to employ Walsh, the Indiana Pacers, guided the team to the Eastern Conference Finals.) This is still a franchise that couldn't come to agreement with an executive whose resume just happens to include building a team that won an NBA championship just one season ago. This is still a franchise that has never been able to build a culture and a front office and a roster that lasts.
So why are fans and writers and analysts talking themselves into the Perry hire with everything we know about this franchise's history? Can a tiger change its stripes? Can driving in rush hour traffic in Atlanta sometimes not be completely terrible? No, but there is no fun to "no" answers and rationalizing is just a natural part of being a human being.
The "maybe" thoughts are really all we can do — especially as sports fans. Maybe Scott Perry will find a way to make all of this work, even if he did play a hand in drafting Elfrid Payton, Victor Oladipo, Mario Hezonja and Aaron Gordon in Orlando. Maybe his brief work helping fix the unfixable in Sacramento was just an appetizer to the entree that is fixing James Dolan's Knicks, even if longtime executives, like Walsh, attempted the same thing and found no such luck.
Maybe Scott Perry will be the first general manager in the James Dolan era to build something special and lasting in New York, but you still shouldn't bet on it.