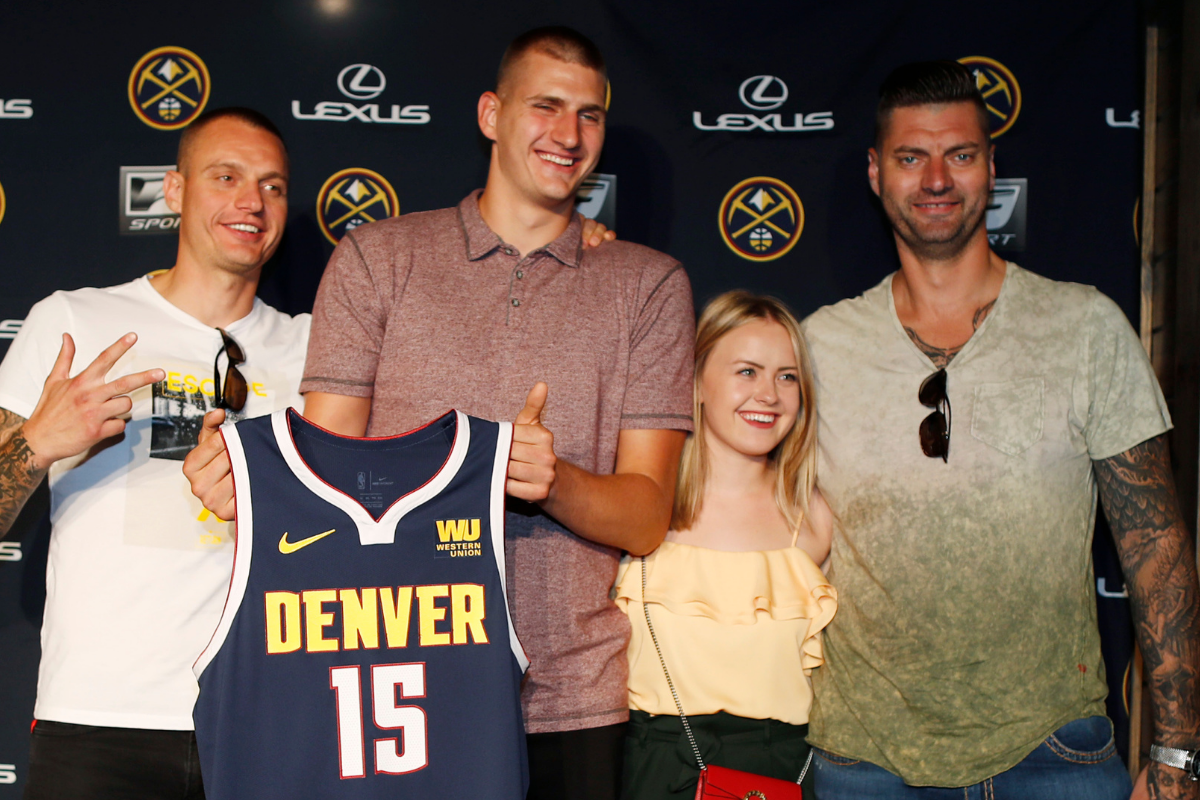 AP/David Zalubowski
Denver Nuggets center and NBA All-Star Nikola Jokic continues to solidify his claim as arguably the most unique player in basketball. The Serbian basketball player has risen to superstar status throughout the past few seasons.
While he's a serious MVP candidate, he's already won one of the most important prizes in life: love.
Jokic is married to longtime girlfriend Natalija Macesic and tied the knot during the pandemic.
Who is Nikola Jokic Wife?
RELATED: Nikola Jokic Is Changing How NBA Big Men Play the Game
Nikola Jokic and now-wife Natalija Macesic had been together since 2013 before officially getting married in 2020. The COVID-19 pandemic delayed their wedding, but the pair managed to officially get hitched at a small ceremony.
The couple tied the knot at a private wedding ceremony in Jokic's hometown of Sombor, Serbia, according to Eurohoops.
Jokic told Bleacher Report that he advised Macesic to cheat when playing cards with his brothers Nemanja and Strahinja.
Macesic moved to the United States alongside Jokic and is a graduate of Metropolitan State University, where she earned a psychology degree. Her university campus was near the Pepsi Center, where Jokic plays for the Nuggets.
The pair met for the first time in high school and have come a long way since then.
Since moving to the United States, she's been by Jokic's side, even traveling with the big man to London when the Nuggets played the Indiana Pacers overseas.
Macesic's social media pages are private, though she boats 11,000 followers on Instagram.
Nikola Jokic's Basketball Career
Nikola Jokic was selected in the second round of the 2014 NBA Draft by the Denver Nuggets and moved from Serbia a year later to join the team.
The big man impressed early on in his career as an NBA player, making the 2015-16 NBA All-Rookie Team. Jokic made his first All-Star team in 2018-19 after nearly averaging a triple-double with 20.1 points, 10.8 rebounds, and 7.3 assists per game.
Jokic has improved but not enough to lead the Nuggets past the Western Conference Finals. In 2019, the Nuggets lost to the Portland Trail Blazers in the semifinals. In 2020, LeBron James and the Los Angeles Lakers defeated the Nuggets in the Western Conference Finals.
The Joker signed a five-year, $147 million contract extension with the Nuggets in the 2018 offseason that will see him in Denver through the 2022-23 season. They'll be looking to win a ring with Jokic leading the charge, though that will be more difficult following the loss of Jamal Murray to injury.
Jokic has also played a pivotal role for the Serbian National Team, having featured for the squad and won a silver medal at the 2016 Summer Olympics in Rio.