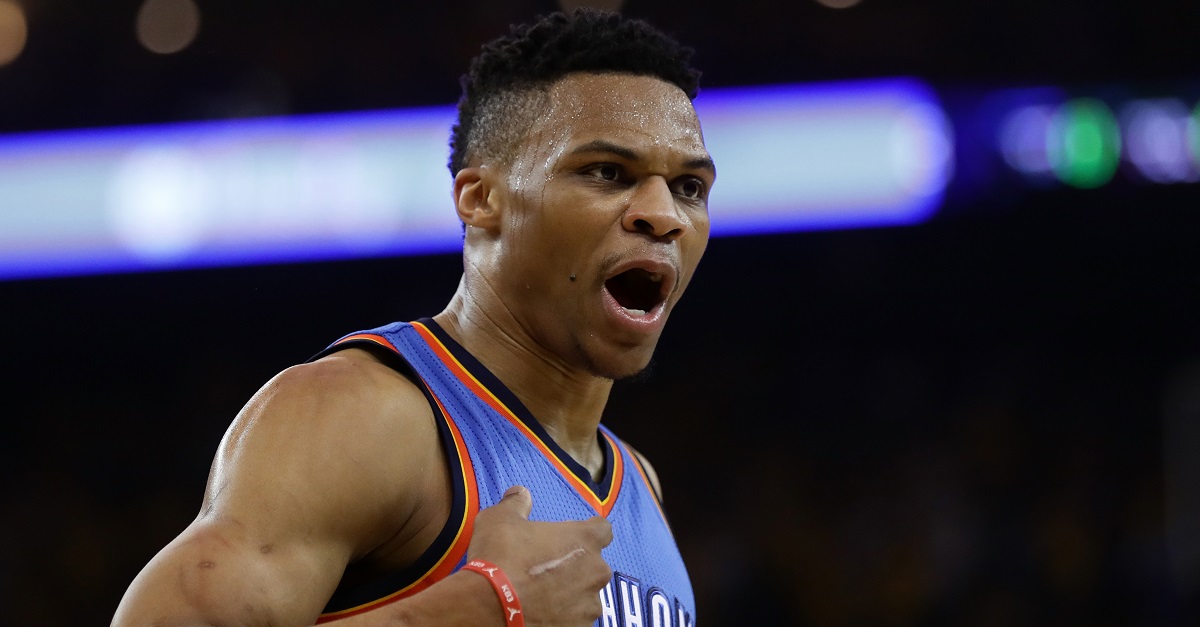 OAKLAND, CA - MAY 26: Russell Westbrook #0 of the Oklahoma City Thunder reacts to a play against the Golden State Warriors during Game Five of the Western Conference Finals during the 2016 NBA Playoffs at ORACLE Arena on May 26, 2016 in Oakland, California. (Photo by Ezra Shaw/Getty Images)
Now that Kevin Durant is a Golden State Warrior the Oklahoma City Thunder have to figure out what is going to happen with Russell Westbrook in the coming year. Do they try to trade him so they don't lose two superstars for nothing? Do they convince him to re-sign with the team and they give him the max he deserves? If they do the latter, do they bring in someone else who's on Westbrook's superstar level?
RELATED: Westbrook could be on the move and he's likely to land here
It looks like the Thunder has plans to make that last move. According to The Vertical, the Thunder are trying to renegotiate Westbrook's contract this year in hopes of being able to sign another superstar next summer when one in particular becomes a free agent.
Adrian Wojnarowski of Yahoo Sports:
The move protects salary cap space for the Thunder's primary offseason objective, league sources said: persuading five-time All-Star guard Russell Westbrook to renegotiate his contract, which would eliminate his 2017 free agency.

For Westbrook, the most likely scenario for a renegotiation would be to use the Thunder's cap space to guarantee he will stay under contract with the Thunder through the 2017-18 season. This would give Oklahoma City the chance to recruit one of its top targets – 2017 free agent and Oklahoma native Blake Griffin of the Los Angeles Clippers – to partner with Westbrook, league sources said.
RELATED: Thunder likely losing this guard to free agency
Westbrook is slated to earn $17,769,374 next season. As long as the Thunder have $8,770,726 in cap space — which they should have since they renounced Waiters' qualifying offer — they can renegotiate Westbrook's salary up to his max of $26,540,100.
RELATED: Boston Celtics blockbuster trade reportedly gaining more traction
Should the Thunder pull that off, they would then have to convince Blake Griffin to opt out of his contract next summer and sign with them. It's a pretty difficult maneuver, but Griffin's situation in Los Angeles has been going south for most of the year with his quad injury and hand injury resulting from his fight with a trainer as well as his team making a playoff run without him.
RELATED: Clippers reportedly offered Blake Griffin for four players.
Griffin would have a chance to return home to his native Oklahoma — where he also played his college ball — and start anew with a point guard who could show him a thing or two about intensity and taking the game seriously. Westbrook would have to renegotiate and extend his contract by Feb. 28. The current atmosphere in OKC  would really mean that the renegotiation would need to get this summer in all practicality and if Westbrook isn't amenable to renegotiating and extending, Oklahoma City will want to use its cap space to upgrade the team elsewhere.
RELATED: Blake Griffin broke his hand after punching Clippers employee
The five-time All-Star guard can extend his contract another three years, but Griffin won't be a free agent until July and that's where things could get complicated. Westbrook would basically be wagering another three years of his contract on Griffin signing with the team next summer. If they lose out on him then Westbrook gets even more ticked off and likely demands a trade, creating a rather awkward and sticky situation for the Thunder.
It should be interesting to see if the Thunder stay pat or make a huge move before the trade deadline to try to secure their future as a playoff contender rather than a rebuilding team.
[h/t NBC Sports]