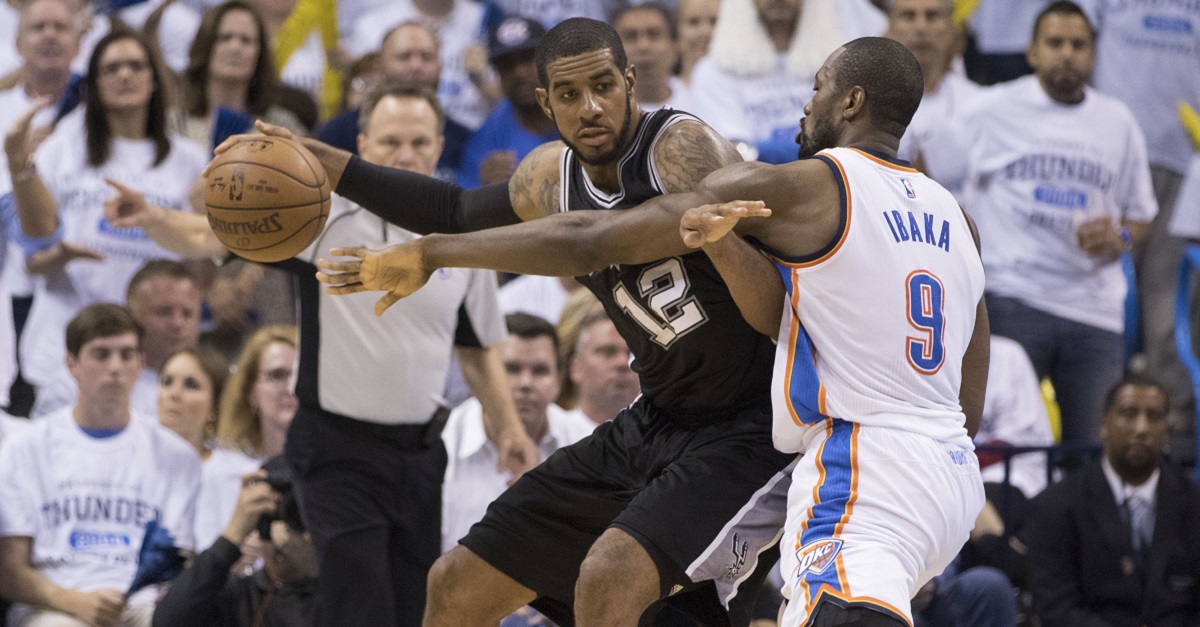 J Pat Carter/Getty Images
OKLAHOMA CITY, OK - MAY 8: LaMarcus Aldridge #12 of the San Antonio Spurs tries to bring the ball down court as Serge Ibaka #9 of the Oklahoma City Thunder applies pressure during the second half of Game Four of the Western Conference Semifinals during the 2016 NBA Playoffs at the Chesapeake Energy Arena on May 8, 2016 in Oklahoma City, Oklahoma. NOTE TO USER: User expressly acknowledges and agrees that, by downloading and or using this photograph, User is consenting to the terms and conditions of the Getty Images License Agreement. (Photo by J Pat Carter/Getty Images)
The San Antonio Spurs had some upheaval this summer with Tim Duncan retiring and several players moving on to other teams like Boban Marjanovic, Boris Diaw and David West while Matt Bonner was let go to make room for other guys to be signed. Those guys include Pau Gasol, David Lee, Davis Bertans, Dewayne Dedmon and rookie Dejounte Murray who was taken 29th overall in the NBA Draft.
RELATED: Tim Duncan calls it quits
The clear stars on the team are Kawhi Leonard and LaMarcus Aldridge who have max or near-max contracts. Aldridge joined the team in the summer of 2015 after playing with the Portland TrailBlazers for nine seasons and helped the team win a franchise-record 67 games. With Duncan retired and Gasol taking over the center position all should be great for Aldridge, right?
RELATED: LaMarcus Aldridge is heading home to Texas
According to ESPN's Jackie MacMullan, everything is most certainly not fine between the Spurs and Aldridge right now. Appearing on CSNNE.com's Early Edition, MacMullan says there are rumblings LaMarcus may not finish the new season in silver and black and could be on the trading block.
"For instance, sources were telling me the other day that LaMarcus Aldridge may not even finish the year with the Spurs. That experiment hasn't quite worked out the way they hoped."
And when the Boston insider was asked about him going to the Celtics, she was pretty emphatic in her answer and gave a little insight as to why it would be a bad idea.
"No! Not after what I heard the other day. I don't.
There's some stuff going on."
There hasn't been any word from San Antonio's camp on this and has not been addressed by anyone else so this is likely just rumors right now from Jackie Mac. What the end game is still remains to be seen and if Aldridge somehow forces his way out of San Antonio, the Spurs should get quite the hefty return for him since he is under contract and they would look like geniuses because his contract does contain a 15% trade kicker.
[h/t News 4 San Antonio]