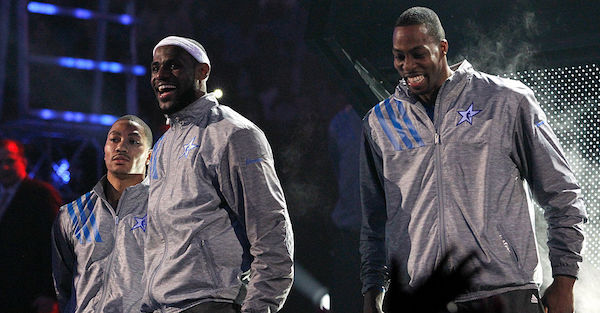 Ronald Martinez/Getty Images
during the 2012 NBA All-Star Game at the Amway Center on February 26, 2012 in Orlando, Florida. NOTE TO USER: User expressly acknowledges and agrees that, by downloading and or using this photograph, User is consenting to the terms and conditions of the Getty Images License Agreement.
Although a lot of attention, and rightfully so, in the NBA this summer will be on what Chris Paul does and whether or not the longtime Los Angeles Clipper bolts for the rival San Antonio Spurs.
However, another former star point guard, Derrick Rose, could also once again be on the moves and two Western Conference teams are rumored to be interested: The Minnesota Timberwolves and the Spurs.
Via ESPN:
"The Minnesota Timberwolves view Derrick Rose as a potential free-agent target this summer, league sources told ESPN."

"It is unclear at this point which other outside teams besides the Timberwolves view Rose as a potential free-agent target. Some rival executives believe the San Antonio Spurs may have interest in Rose, depending on how the free-agent market for point guards develops."
The Timberwolves' option makes more sense, as Rose is obviously familiar with their head coach Tom Thibodeau.
The Spurs' option is fascinating, with their already reported interest in Paul, Rose as a fallback option would also be very interesting. It's clear the Spurs will be making some adjustments to their point guard rotation next year, as Tony Parker continues to slide and the possibility Patty Mills signs elsewhere.