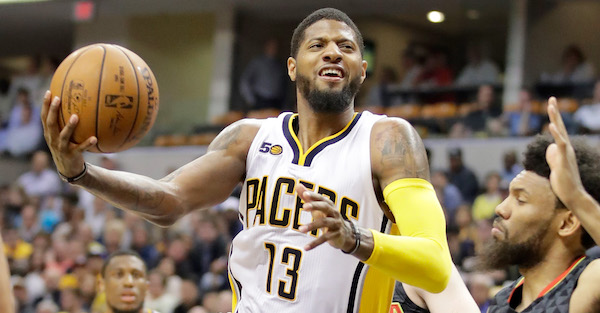 Andy Lyons/Getty Images
INDIANAPOLIS, IN - APRIL 12: Paul George #13 of the Indiana Pacers shoots the ball against the Atlanta Hawks at Bankers Life Fieldhouse on April 12, 2017 in Indianapolis, Indiana. NOTE TO USER: User expressly acknowledges and agrees that, by downloading and or using this photograph, User is consenting to the terms and conditions of the Getty Images License Agreement (Photo by Andy Lyons/Getty Images)
What the Golden State Warriors did this past season was nothing short of incredible.
After compiling 73 wins, literally re-writing history, Bob Myers, Golden State's general manager, teamed up with the rest of the Warriors brass to lure Kevin Durant away from Oklahoma City.
Much to the dismay of the Thunder fans, players, and everyone who had polarized against Golden State prior to Durant's decision, the Warriors added to their super team and demolished LeBron James' Cleveland Cavaliers to capture their second championship in three seasons.
Now, it appears Golden State could try and repeat that formula.
In a podcast with the Washington Post's Tim Bontemps, Tim Kawakami, of The Athletic, said he and colleague Marcus Thompson believe the Warriors will "try to find a way" to lure Paul George away from Oklahoma City in free agency after this season.
"Marcus and I have teased this for more than a year. We think they're going to go after Paul George, somehow. I think Joe Lacob is going to try to find a way to get Paul George. I don't know how that would happen, but I didn't know how it was going to happen when they were—three years ago, when they said they were [going] after Durant. Well, they didn't say it. But they might have whispered it."
With Stephen Curry set to see his annual salary rise from $34,682,550 to $45,780,966 between now and 2022, the Warriors would have to do some serious financial maneuvering in order to afford George.
Now, Durant could opt out after the 2018-19 season and re-sign, which would help Golden State find some flexibility in order to stay under the hard cap. But even with Durant playing ball in contract negotiations, the Warriors would likely have to shed the contracts of Andre Iguodala and Shaun Livingston.
Iguodala is owed $48 million, and Livingston will collect about $24 million over the next three seasons.
Hypothetically, if Golden State somehow found a way to pull this off, imagine how lethal that team would be. The Warriors are already loaded up to defend their title, but adding George to the mix would be like an NBA 2K salary cap hack.
Plus, it would be fun to physically see the veins popping out of every Oklahoma City fan's forehead, knowing they lost yet another superstar forward to Golden State.
(h/t Bleacher Report)