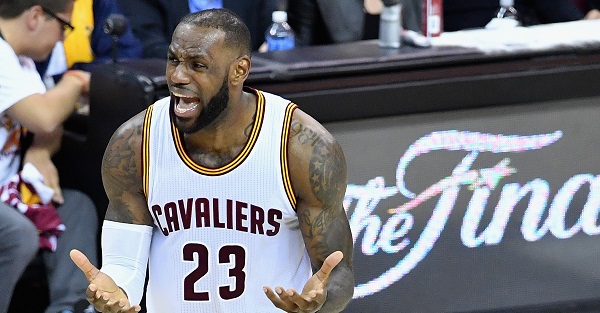 Jason Miller/Getty Image
CLEVELAND, OH - JUNE 07: LeBron James #23 of the Cleveland Cavaliers reacts in the second half against the Golden State Warriors in Game 3 of the 2017 NBA Finals at Quicken Loans Arena on June 7, 2017 in Cleveland, Ohio. NOTE TO USER: User expressly acknowledges and agrees that, by downloading and or using this photograph, User is consenting to the terms and conditions of the Getty Images License Agreement. (Photo by Jason Miller/Getty Images)
Paul George is going to be a hot name this off season. At just 27, he's in his basketball prime. He's a four-time All-Star who excels on both ends of the court. While his career numbers are more than fine — 18.1 points per game and a 37 percent shooter from beyond the arc — he's upped his game the last two years, averaging more than 23 ppg. And, he's hell on defense, being named to the All NBA Defensive first team in 2014 and making the second team twice.
With one year to go before free agency, George, a 6-foot-9, 220 pound small forward, has told his current team, the Indiana Pacers, he has no intention of resigning with them.
So he "prefers" the Lakers, and as a free agent, he can go wherever he wants. The Lakers have little incentive to trade much because they know they're high on George's list, and can have him (in a year) for straight cash (albeit a ton if it).
So the Pacers, according to reports, aren't waiting around. They're gauging interest to see if a team is willing to "rent" George for a year, thereby giving the Pacers some assets in return. So, look who's (maybe) in the mix:
Cleveland.com reported the Cavs put in a phone call to Indiana, and it sounds like it was more a due diligence call. Cleveland.com floated the idea of a Kevin Love for George trade because their salaries are similar (George makes $19.5 million and Love 22.6 million) and the Cavs have trade exemptions that could use to even out the money.
No one knows, yet, how much Indiana will seek for a rental like George, but could he be intrigued with playing with LeBron James for a year? Yes seems like a reasonable answer. And remember — the report is George "prefers" the Lakers, but lots can change in a year.