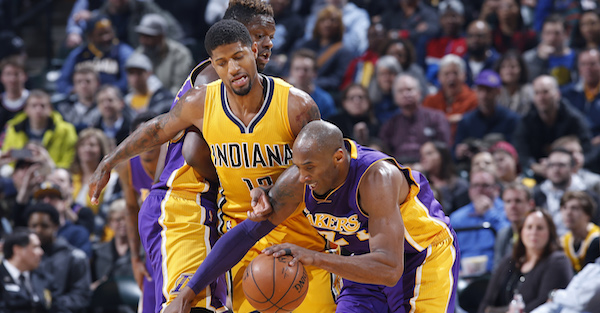 Joe Robbins/Getty Images
INDIANAPOLIS, IN - FEBRUARY 8: Paul George #13 of the Indiana Pacers defends against Kobe Bryant #24 of the Los Angeles Lakers in the first half of the game at Bankers Life Fieldhouse on February 8, 2016 in Indianapolis, Indiana. NOTE TO USER: User expressly acknowledges and agrees that, by downloading and or using the photograph, User is consenting to the terms and conditions of the Getty Images License Agreement. (Photo by Joe Robbins/Getty Images)
Oklahoma City Thunder forward Paul George has been linked to the Los Angeles Lakers for a long time now as his desired destination, but the new teammate of Russell Westbrook revealed that signing with the Lakers next summer as a free agent is not a guarantee.
In an interview with Sports Illustrated, George opened up about all the noise surrounding his future on not only the Thunder but the Lakers, too.
Via Sports Illustrated:
?I grew up a Lakers and a Clippers fan,? George says. ?I idolized Kobe. There will always be a tie here, a connection here. People saying I want to come here, who doesn?t want to play for their hometown? That?s a dream come true, if you?re a kid growing up on the outskirts of L.A., to be the man in your city. But it?s definitely been overstated. For me, it?s all about winning. I want to be in a good system, a good team. I want a shot to win it. I?m not a stats guy. I?m playing this game to win and build a legacy of winning. I?ve yet to do that. I?m searching for it. If we get a killer season in Oklahoma, we make the conference finals or upset the Warriors or do something crazy, I?d be dumb to want to leave that.?
This is interesting for a multitude of reasons. George doesn't hide from the fact that he grew up a fan of the L.A. teams that could sign him next year. His admission that he "idolized" Kobe Bryant, should make Laker fans feel better about his potential arrival, too.
Still, he cares about winning and playing with Westbrook, Steven Adams, Patrick Patterson and Andre Roberson give him a good chance of making the Western Conference Finals. And, at the very least, it's the best NBA team he's ever been on.
Either way, the pressure is on for the Thunder to have a big year in 2017-18.