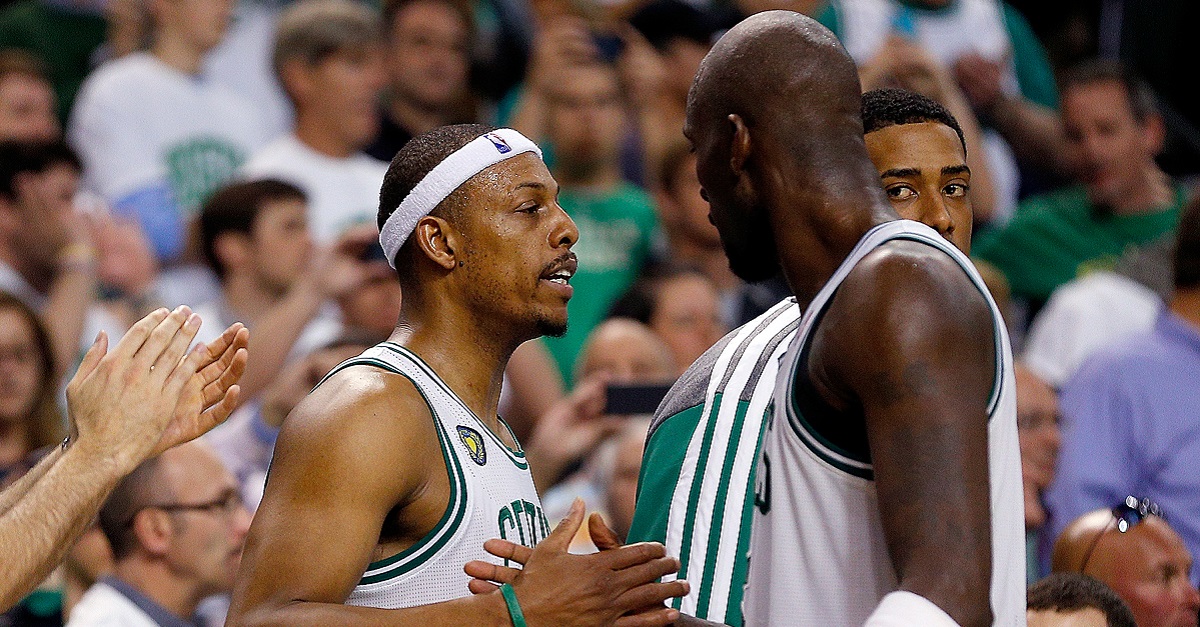 Jim Rogash/Getty Images
BOSTON, MA - MAY 3: Paul Pierce #34 of the Boston Celtics and Kevin Garnett #5 exchange words in the final moment in the 4th quarter in Game Six of the Eastern Conference Quarterfinals of the 2013 NBA Playoffs on May 3, 2013 at TD Garden in Boston, Massachusetts. The Celtics lost 88-80. NOTE TO USER: User expressly acknowledges and agrees that, by downloading and or using this photograph, User is consenting to the terms and conditions of the Getty Images License Agreement. (Photo by Jim Rogash/Getty Images)
Paul Pierce compared Golden State Warriors' forward Kevin Durant's decision to sign with his new team to a bullied kid who ultimately joins forces with those that picked on him. Appearing on ESPN's The Jump Tuesday, the discussion started with Pierce's longtime coach Doc Rivers talking about Durant's decision to join the Warriors last summer and how it would have difficult for him to make a similar move early in his prime.
Pierce, like Rivers, both certainly do not agree with Durant's decision to join the Warriors, and both seem to believe they wouldn't have gone that route in their prime years.
Still, there are some problems with what Pierce is saying. For one, Pierce struggled to break through in Boston for years and it wasn't until Kevin Garnett and Ray Allen came to town before his career transformed into something special. He may not have left the Celtics to join the Los Angeles Lakers, but that's only because the superstars joined him in Boston — Durant didn't have that luxury in Oklahoma City.
It certainly seems as though the discussion surrounding Durant's decision to join the Warriors won't cease anytime soon. It's easy for ex-players, like Rivers and Pierce, to unload on Durant for heading West, but it's easy because they're not in the game anymore and it's entirely a "What If" question that can never be answered. So they can't lose.
Pierce last played for the Los Angeles Clippers in 2016-17.