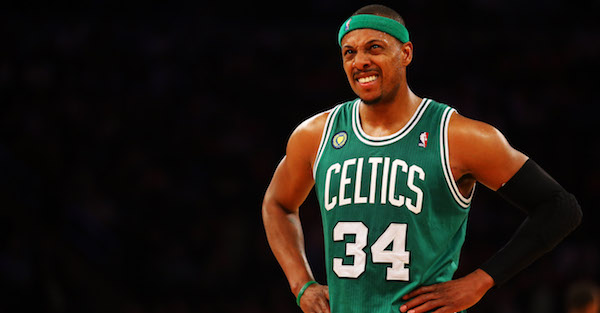 Al Bello/Getty Images
during Game five of the Eastern Conference Quarterfinals of the 2013 NBA Playoffs at Madison Square Garden on May 3, 2013 in New York City. NOTE TO USER: User expressly acknowledges and agrees that, by downloading and or using this photograph, User is consenting to the terms and conditions of the Getty Images License Agreement.
Paul Pierce is one of the best players in Boston Celtics history, and the team is honoring him by retiring his No. 34 jersey on Feb. 11.
However, the team is also planning to honor Isaiah Thomas on the same night with a tribute video. The Celtics play the Cleveland Cavaliers, and it will be the first time Isaiah Thomas will return to Boston on the active roster.
Thomas didn't play when the Cavaliers and Celtics played on Jan. 3, and the team was originally going to honor him with the tribute video then. But Thomas didn't want that since he wasn't playing, so the team moved it to Feb. 11.
Unfortunately, Pierce said on ESPN's The Jump that he wants the Celtics to skip out on the Thomas video.
"I'm not saying Isaiah shouldn't get a tribute video, but on Feb. 11, the night I get my jersey retired, I'm not sure I want to look up at the JumboTron and see Isaiah highlights," Pierce said.
Instead, Pierce said the team could just put it on Instagram.
He also said that he was in Los Angeles when the Lakers honored Kobe Bryant, and he enjoyed how the team honored Kobe by showing highlights of him during timeouts.
"I enjoyed watching that throughout the game," Pierce said. "Hopefully the Boston Celtics will do that for me. I'm not sure I want to see an Isaiah video that night."
It would be odd if the Celtics decided to back out on the Thomas video now, so they're left with a difficult decision. According to NBC Sports, Thomas said he doesn't see the harm in the team showing one tribute video during a timeout.
"That's Pierce's night. But, like, the video tribute ain't the whole night," Thomas said. "I just wanted my family to be here to see it. That's what it came down to. I wanted to be able to play. And I wanted my family to experience the love and appreciation this city and this organization is going to give me on that night. And when my representatives reached out to these guys, [the Celtics] were all for it. They agreed on it.

"I don't know why [some people are] so mad about it. I'm not taking nothing from Paul Pierce. He did 15 years here so there's nothing that I can take from him. But if they choose to do it that night, that would be great and I would be honored. And my family and friends can see how much they appreciated me here."
It's easy to see where Pierce is coming from given his legacy with the franchise. The Celtics will have a big decision to make on whether to postpone the tribute for Thomas and whether they should dedicate the entire night to Pierce. Stay tuned.