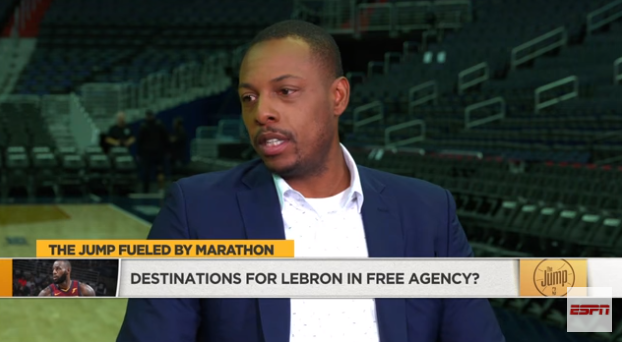 ESPN/YouTube
ESPN/YouTube
As speculation will surely run wild all season long, a former Finals MVP and current ESPN analyst named the team he believes that will be the ?best fit? for LeBron James should he leave the Cleveland Cavaliers next summer in free agency.
Paul Pierce, who played 19 seasons in the NBA and won a Finals MVP in 2008, said Friday on ESPN?s The Jump that he believes one of his former teams, the Washington Wizards, would be the best fit for James.
[youtube https://www.youtube.com/watch?v=B4ymZdGeSlw?start=163%5D
?There?s one Eastern Conference team that I think he?s the best fit and I believe it?s the Washington Wizards,? Pierce said. ?You have a young backcourt still. Guys where LeBron doesn?t have to carry the load every night. You have a young small forward in Otto Porter. You can play LeBron at the four. Could you imagine Bradley Beal, John Wall, LeBron James, Otto Porter [and] Gortat? That team would definitely win the East.?
Pierce added that he thinks it would be best for James to stay in the Eastern Conference because a path to the NBA Finals would be harder in the Western Conference. James has been to seven-straight NBA Finals series and is looking for an eighth consecutive trip this year.
James has a $35,607,968 player option for next season and can become an unrestricted free agent next summer if he decides to opt out of his contract. Given the uncertainty with the Cavaliers beyond this season, many have speculated that James could leave and sign with a different team next season. The Los Angeles Lakers have been a team mentioned as the favorites to land James if he were to leave, but that is purely speculation at this point.
James has offered no public comments stating that he'd like to leave, but it's likely that he wouldn't say that this season anyway. If James were to leave the Cavaliers for purely basketball reasons and to continue to win, the Wizards certainly are an appealing option given what their starting lineup could look like.
For now, all we're left to do is wait and see what James will do.