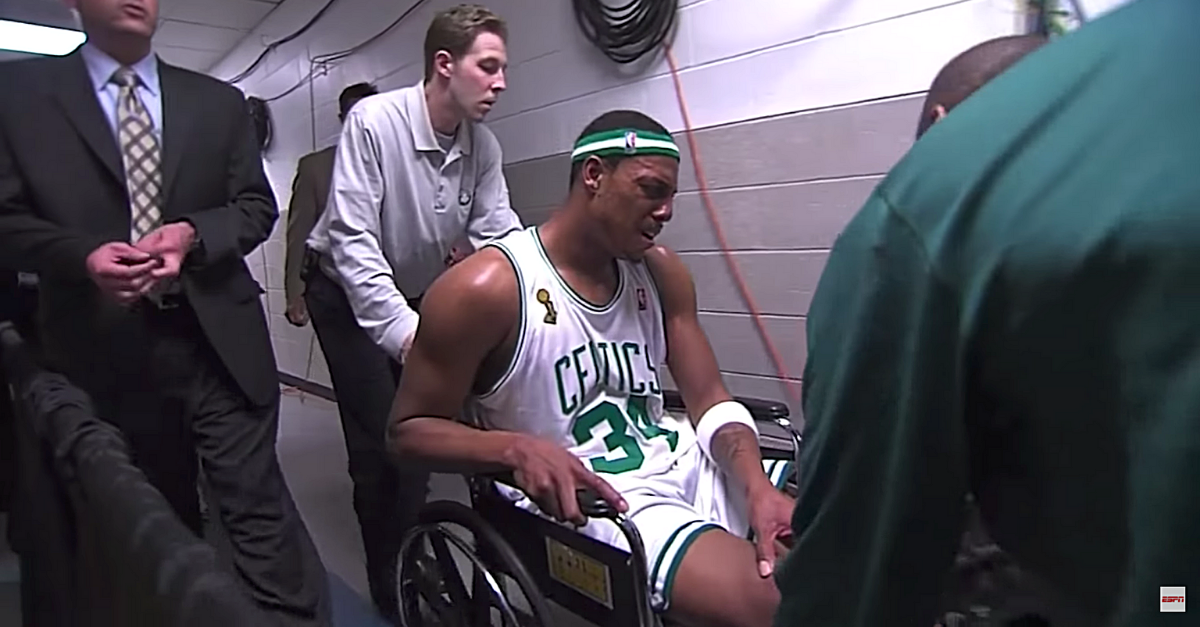 YouTube: ESPN
Paul Pierce contests a Kobe Bryant shot. Bryant hits it, and Pierce crumbles to the ground like a ton of bricks in agonizing pain, bracing his right knee. The replay shows that he maybe, potentially, if you say so, awkwardly landed on Boston Celtics teammate Kendrick Perkins' foot.
Not one, not two, but three Celtics personnel carry him off the court. He takes a wheelchair to the locker room. Less than two full minutes of game time later, Pierce cheerfully returns to a hero's welcome. He goes back in and looks like he's at 100 percent. It's an NBA playoffs miracle.
It just doesn't add up. Something smells funky, and I think it's Paul Pierce's shorts.
Paul Pierce's Famous Wheelchair Game
Let's set the scene: It was Game 1 of the 2008 NBA Finals, the Boston Celtics' first trip since 1987. On the opposing side was their historical rival, the Los Angeles Lakers. It's the first season of the Pierce, Kevin Garnett, and Ray Allen big three. The TD Garden was buzzing. Kobe's shot gave the Lakers a 62-58 advantage about five minutes into the third quarter.
A great NBA conspiracy theory ensued.
The sheer drama of the whole thing had me think we just witnessed a career-altering injury that shattered Boston's title hopes. Turns out, the Truth was really gunning for the Oscar.
With these type of injuries, guy's traditionally fight through the pain to hobble off the court themselves. A wheelchair is never used 99.999999% of the time in this context. Somehow, Pierce skipped back onto the court good to go not five minutes later?
What a convenient way to hide one's backside. Someone, who, hypothetically, had a little accident.
The dots have been connected; the evidence examined.
Paul Pierce pooped his pants in an NBA Finals game.
Following a 22-point performance and a 98-88 victory, Pierce elaborated on the devastating leg injury:
"Well, when I first fell to the ground, I heard a pop in my knee, and all I felt was pain when I grabbed it," [he said]. "And at that point, I thought it was just – I thought I tore something. That's the way I felt at the time. Usually when I go down, I'm getting right back up, but it was an instance where I turned my knee and it popped, heard it pop, and I was just in pain where I just couldn't move."
Poopgate: Paul Pierce's Wheelchair Incident Confession
The people demanded answers, and on the incident's 11th anniversary, they got them. On NBA Countdown's coverage of Game 3 of the 2019 NBA Finals between the Golden State Warriors and Toronto Raptors, ESPN's Michelle Beadle brought up the special day. Pierce, unprompted, dove right into a confession. Co-analysts Jalen Rose and Chauncey Billups braced themselves. Kevin Durant and Steph Curry stopped warming up.
"I have a confession to make: I just had to go to the bathroom."
Did he just admit to pooping himself on national television on national television?
Pierce continued, "Something went down."
Conspiracy theorists rejoiced. Poop fans everywhere ate fiber to celebrate this revealing Wednesday night. The wheelchair game mystery was solved.
The 10th overall pick in the 1998 NBA Draft later clarified his statement in a tweet:
"Sorry to bust y?all haters bubble but the only [poop emoji]Ing I did June 5 2008 was on the Lakers."
Nice try, Paul. You'll need better toilet paper than a championship and Finals MVP to clean up this one.