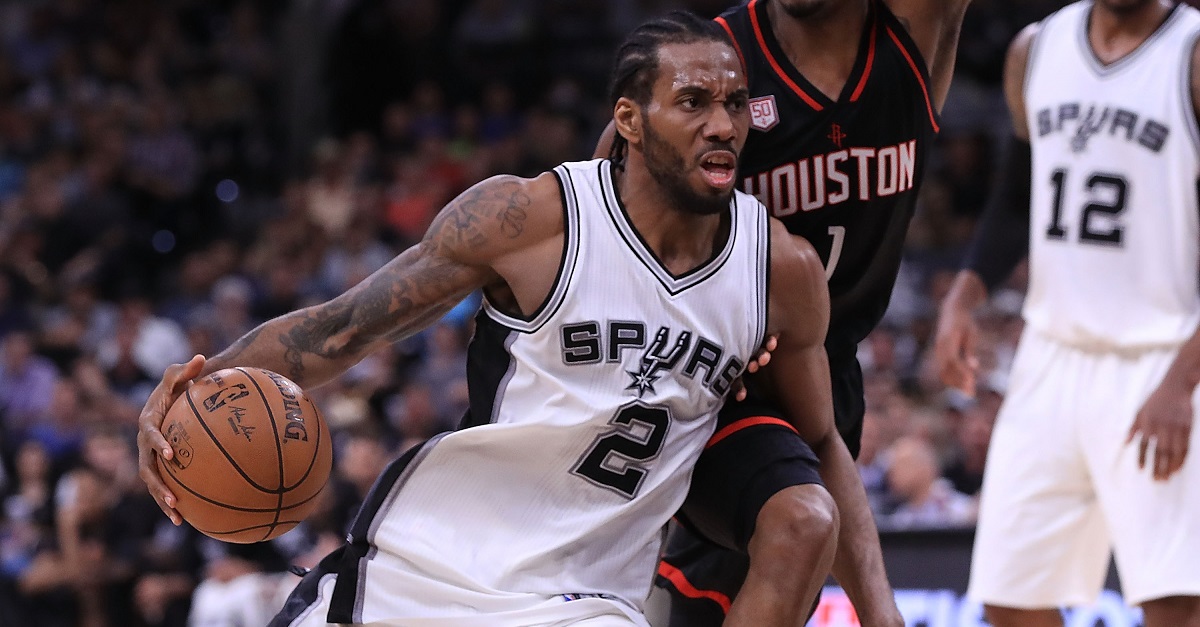 Ronald Martinez/Getty Images
SAN ANTONIO, TX - MAY 03: Kawhi Leonard #2 of the San Antonio Spurs drives against Trevor Ariza #1 of the Houston Rockets during Game Two of the NBA Western Conference Semi-Finals at AT&T Center on May 3, 2017 in San Antonio, Texas. NOTE TO USER: User expressly acknowledges and agrees that, by downloading and or using this photograph, User is consenting to the terms and conditions of the Getty Images License Agreement. (Photo by Ronald Martinez/Getty Images)
We're still more than two months away from the start of the 2017-18 season. That means we still have about two months worth of sifting through hot takes used to make the offseason feel like it's progressing quicker than it actually is.
Typically, we're used to fielding outlandish claims from analysts and media members. But arguably the worst hot take of this offseason came from Penny Hardaway.
When the former Orlando Magic star joined Sirius XM's NBA show, "Bottomline," the topic of San Antonio Spur Kawhi Leonard, being a superstar came up. And Hardaway was not shy about his opinion of Leonard.
"Superstar? No. Kawhi Leonard is not a superstar because he has no interest in being the face of the league or starring in TV commercials," Hardaway said. "He's a good player, but I wouldn't consider him a superstar player."
Hardaway's logic is more than slightly flawed. Sure, he knows a thing or two about being a star in the league, considering he was a four-time All-Star himself. However, the idea that one needs to connect an off-the-court persona to one's on-court success shouldn't be what classifies a player as a superstar.
How many commercials can you remember John Stockton being in off the top of your head? How about John Starks, Steve Francis or Gary Payton? Did they have some here or there? Sure. But it's not a player's off-court marketability which elevates him to superstar status.
It's his on-court dominance.
Also, let's not act like you have to be the face of the NBA in order to be a superstar. When Magic Johnson and Larry Bird ran the show, their success didn't make Michael Jordan any less of a superstar. When MJ took the reins, Charles Barkley was still a superstar.
Right now, the face of the league is still LeBron James. But you'd have to be some kind of crazy to tell me Stephen Curry, Kevin Durant, and Paul George aren't superstars.
Hardaway was an amazing talent on the court. But he's off base with this one.
Leonard averaged 25.5 points, 5.8 rebounds, and shot 38 percent from three last season … while still serving as arguably the league's best defensive player.
"Kawhi Leonard is not a superstar…" psssssh. Give it a rest.