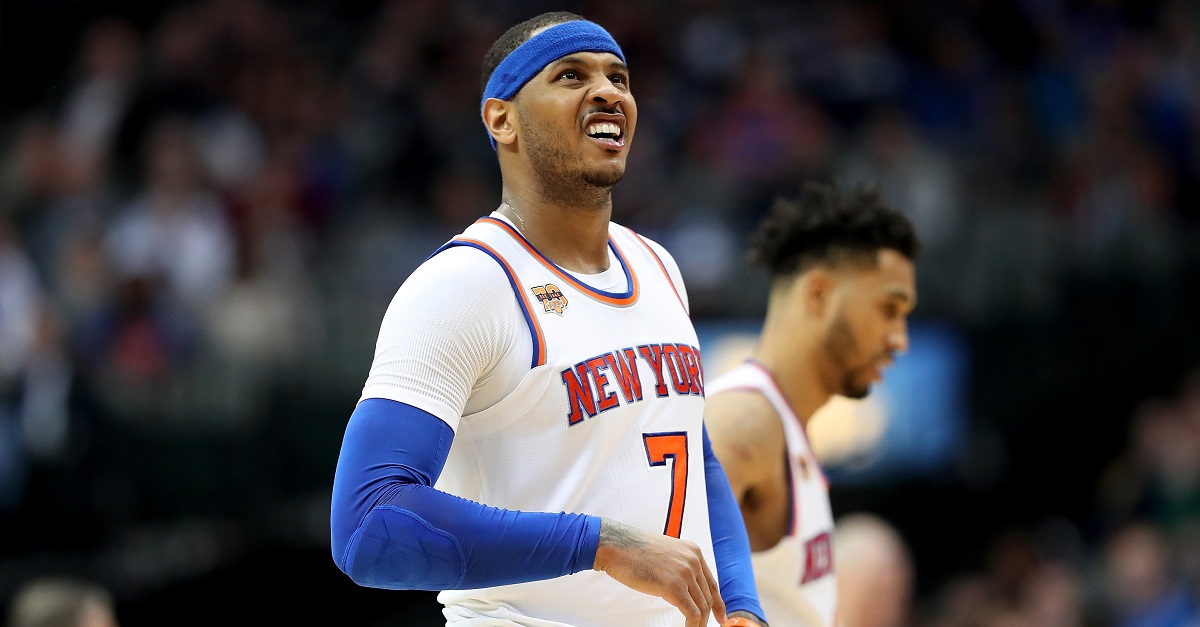 Tom Pennington/Getty Images
DALLAS, TX - JANUARY 25: Carmelo Anthony #7 of the New York Knicks reacts against the Dallas Mavericks in the second half at American Airlines Center on January 25, 2017 in Dallas, Texas. NOTE TO USER: User expressly acknowledges and agrees that, by downloading and or using this photograph, User is consenting to the terms and conditions of the Getty Images License Agreement. (Photo by Tom Pennington/Getty Images)
Carmelo Anthony's tumultuous tenure with the New York Knicks could be coming to an end in the near future.
Knicks president Phil Jackson's recent comments on Anthony don't sound promising for Melo to return to the team next season.
Related: ESPN analyst predicts a Carmelo Anthony trade could open the door for LeBron James to leave Cleveland again 
"We have not been able to win with him on the court at this time, and I think that the direction of our team is that he is a player that would be better off somewhere else and using his talent somewhere where he can win or chase that championship," Jackson said.
While it certainly sounds like Jackson wants to trade Melo, there is one catch: Anthony has a no-trade clause, so he dictates the terms of a trade.
ESPN's Ian Begley reported that the only way Anthony would want to stay is if the Knicks fired Phil Jackson, which is highly unlikely considering they just exercised their option to keep him for the last two years of his deal.
Anthony has incentive to waive his no-trade clause this summer, as he has a 15 percent trade kicker, which means he gets a bonus of 15 percent of his contract's remaining value.
Finding a trade partner might not be too difficult. Anthony loves New York, but he and Los Angeles Clippers guard Chris Paul are good friends, and the Clips have cap room to make a trade this offseason.
The Knicks might not get a big haul in return, but they do have a high draft pick this year, and they can build around Kristaps Porzingis. The most reasonable solution for the Knicks is to rebuild, and dealing Anthony is the first domino that needs to fall.
The Clippers would be a great destination for Anthony, but beyond that, it might be challenging to find a trade partner.
Anthony has two years left on his deal, though he can opt out of his contract after the 2018 season. He is set to make over $26 million next year.
The Knicks missed the playoffs again this year, and Anthony averaged 22.4 points per game this year.
(h/t NBC Sports)