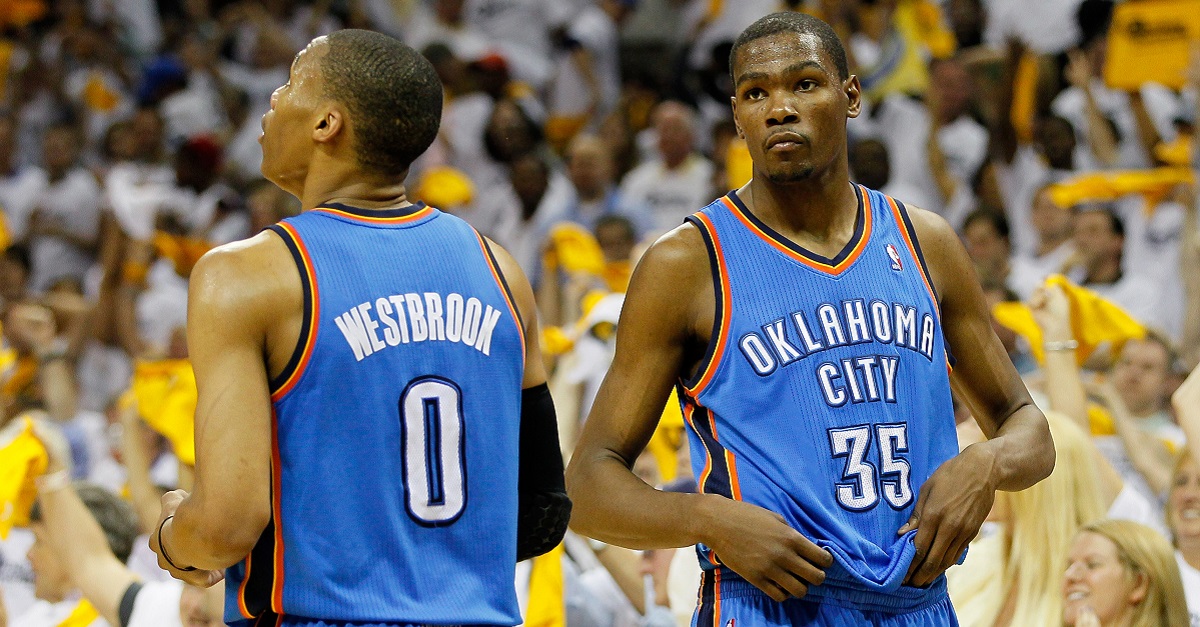 MEMPHIS, TN - MAY 13: Russell Westbrook #0 and Kevin Durant #35 of the Oklahoma City Thunder react after their 95-83 loss to the Memphis Grizzlies in Game Six of the Western Conference Semifinals in the 2011 NBA Playoffs at FedExForum on May 13, 2011 in Memphis, Tennessee. NOTE TO USER: User expressly acknowledges and agrees that, by downloading and/or using this photograph, User is consenting to the terms and conditions of the Getty Images License Agreement. (Photo by Kevin C. Cox/Getty Images)
Kevin Durant was so afraid of the negativity surrounding his decision to become a Golden State Warrior that he didn't come out of his house for two days in fear of getting run over in the streets or someone mentioning the move to him. The news that he would become a Warrior broke on July 4 and the flood of criticism quickly followed.
RELATED: KD's decision to leave OKC reportedly came down to one person
In some of that criticism were reports that the reason Durant left was because of Russell Westbrook and his domination of the offense despite KD's MVP status. While it wouldn't be a huge surprise if that was why the four-time scoring champ decided to head even further West to seemingly greener pastures.
RELATED: Kevin Durant nearly turned down the Warriors and Thunder
Durant insists that the reports and rumors are wrong though and says he made a purely basketball decision.
"Nah, it wasn't (a factor). I mean obviously coming out now (that) I'm gone, all these reports are going to come out," Durant said. "I can't really control it, but I just made a decision based on where I wanted to go, man. It was as simple as that. We can think about all the reasons and the factors and what factored in, but it was simple. That's where I wanted to play basketball."
RELATED: Kevin Durant hints at future plans with Warriors
It's going to be hard for OKC fans to let this one go and when he goes back into town those fans are going to want blood. He's only going to avoid the negativity for so long and Westbrook is going to be mad whether the rumors are true or not. The Warriors better be prepared for a Westbrook unleashed because he's going to take out all of his feelings on the Warriors when he plays them this season.
[h/t Sporting News]