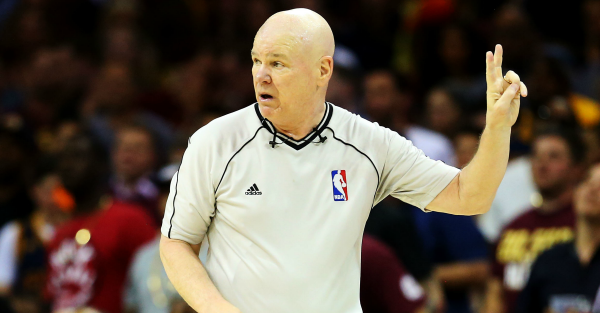 RELATED: Joey Crawford hangs up his stripes
Ray Allen's three-pointer in Game of the 2013 NBA Finals almost caused more headaches for the league than it did the Spurs and their fans. The shot cost referee Joey Crawford some money because of an illegal substitution that allowed Tim Duncan to come on the court during a video review. He spoke about it in an interview at the NBA Replay Center in Secaucus, New Jersey.
Crawford knew right after the game that he would be hearing about the substitution from a lot of people, but this is a fine he was willing to take.
"You know you're in trouble," he said. "You're very happy that you got through the game and you're not, you really weren't the focal point of the game. But what happens is everybody is texting and emailing back and forth, and (saying), 'Joe, you know that Duncan got in the game.'"
Players can only sub onto the court during dead ball situations, which a video review is not considered to be a part of that group. If the Spurs had scored on the next possession — it didn't even have to be Duncan — the Heat would have had a legitimate gripe with the league and could have filed a protest.
The Heat won the game in overtime and would go on to win the series in Game 7. Crawford was actually fined back in 2007 for ejecting Tim Duncan from a game — from the bench no less — despite him not doing anything and just laughing on the bench. So it looks like karma evened things out a little bit.
[h/t Associated Press]