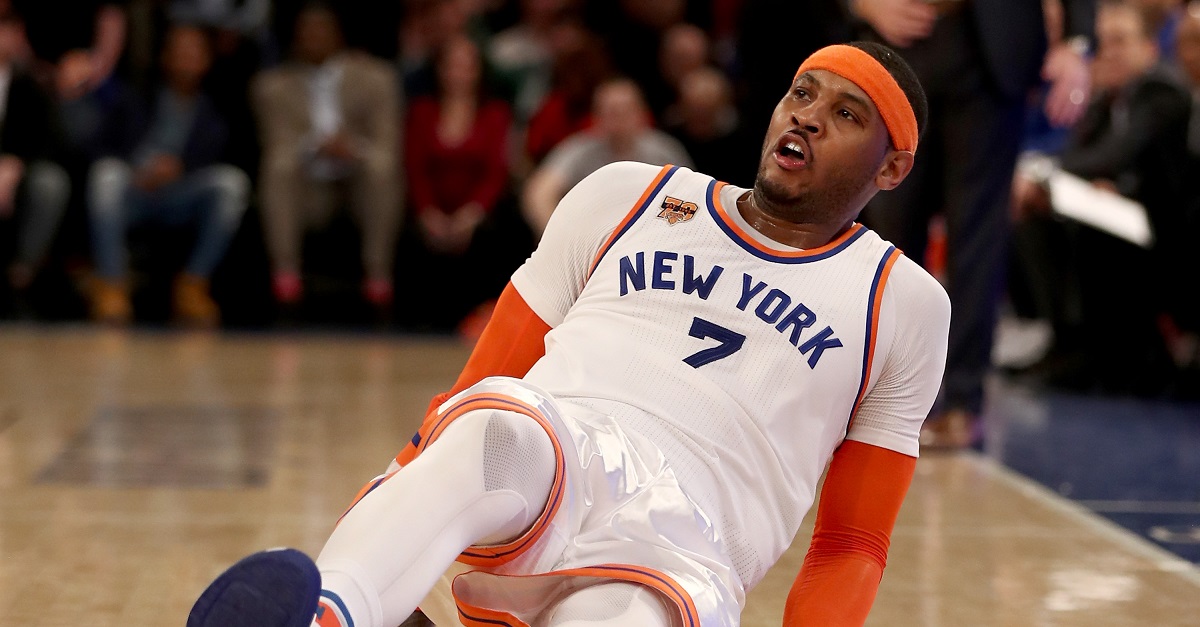 Elsa/Getty Images
NEW YORK, NY - JANUARY 27: Carmelo Anthony #7 of the New York Knicks falls as he follows through on a shot in the fourth quarter against the Charlotte Hornets at Madison Square Garden on January 27, 2017 in New York City. NOTE TO USER: User expressly acknowledges and agrees that, by downloading and or using this Photograph, user is consenting to the terms and conditions of the Getty Images License Agreement (Photo by Elsa/Getty Images)
New York Knicks superstar Carmelo Anthony has reportedly been on the trading block, but he holds all the leverage. He has a no-trade clause in his contract so even if the Knicks find suitable partners or even just one team, the trade would have to appeal to Melo for it to have any chance of going through. And honestly, if he likes the trade then the other teams involved probably won't.
RELATED: Report: One team may be closing in on acquiring Carmelo Anthony
However, the Boston Globe's Gary Washburn is reporting that there is at least one team out there that Anthony would throw away his no-trade clause. From the Boston Globe:
While Celtics management told the Knicks they aren't interested in the nine-time All-Star, the Knicks are pushing to move Anthony, according to an NBA source, and they're intrigued by some of the Celtics' players.

A source indicated that Knicks president Phil Jackson has instructed management to move Anthony, who has a no-trade clause but included the Celtics as one of the teams for whom he'd waive the clause. Boston could become part of a potential three-team deal that would send Anthony to another club, perhaps the Clippers.

An NBA source said Celtics coach Brad Stevens would embrace coaching Anthony, but president of basketball operations Danny Ainge has rejected any deal. That hasn't stopped the Knicks from scouting Celtics players just in case Boston is willing to become part of a trade.
Anthony has made it clear on several accounts that he would prefer to stay in New York, but Phil Jackson is determined to get rid of him. At the very least, he is trying to send Melo to a championship-caliber team and the Celtics would certainly fit that description. It would also be a fun team to play for with Isaiah Thomas and Al Horford surrounded by a ton of great complementary pieces.
[h/t CBS Sports]