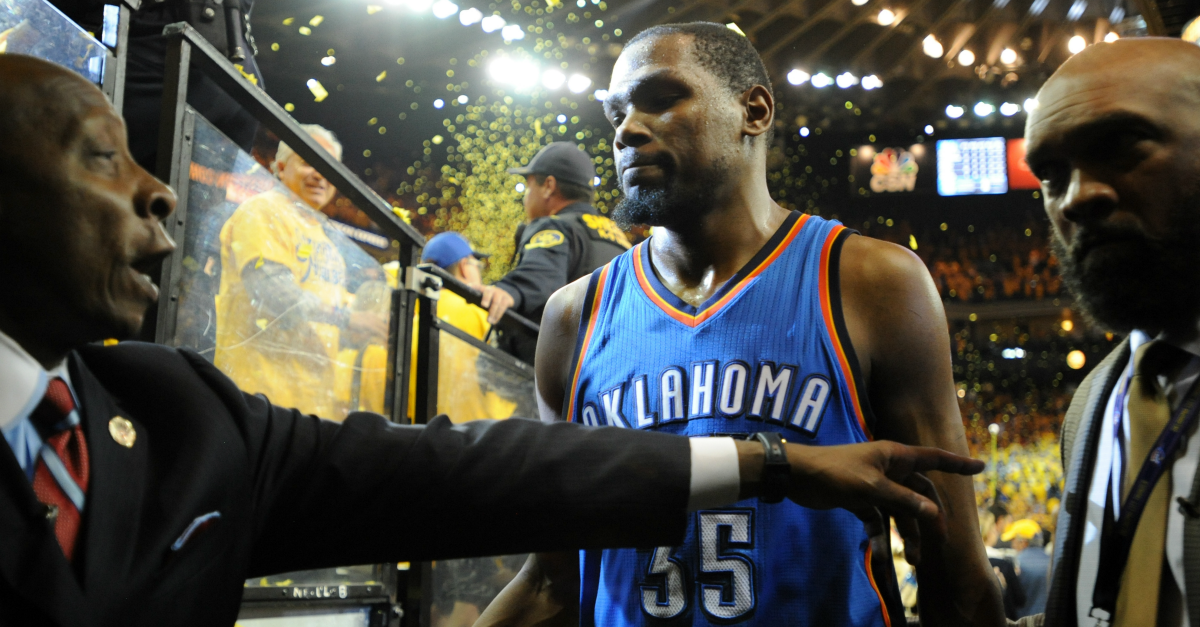 Kevin Durant is the hottest free agent on the market this summer and there will be several teams vying to sign him and his services. The Los Angeles Lakers, Boston Celtics, Oklahoma City Thunder, San Antonio Spurs and Golden State Warriors have the best shot at landing him and it seems that Durant is going to have them flock to him rather than go out to them for the meetings.
RELATED: A new team has become a frontrunner for KD's services this summer
According to Frank Isola of the New York Daily News, the Golden State Warriors remain the the most intriguing option if the Thunder don't bring back Durant.
From the Daily News:
The one player who can change the balance of power in the NBA is expected to meet with prospective teams in Los Angeles when the free-agent recruiting period begins in July, according to a source. Durant had considered holding meetings in New York, but apparently has decided to hear proposals in Los Angeles, where he owns an offseason home.

The same source maintains that if Durant doesn't re-sign with the Oklahoma City Thunder he would prefer to join the Warriors, a team that has reached two straight NBA Finals and could rule the Western Conference for the next five years if Durant goes to the Bay Area.
RELATED: KD excited to work with new coach Billy Donovan
Durant said on Monday that his free agency will be a "basketball decision" and according to ESPN's Marc Stein, Golden State is "all the way in" on chasing Durant this summer. However, if for some reason it becomes a financial decision then OKC is the place to be for Durant. He can sign a "one-and-one" like LeBron James did a couple seasons ago to give himself some options after two years and the potential to make even more money when the NBA's salary cap rises.
Despite all of the hysteria and frenzy there's been for the past year — dating back to last year's free agency period — it wouldn't be all too surprising to see Durant settle all the commotion by quietly signing another deal with the team that drafted him in the first place.
[h/t CBSSports.com]