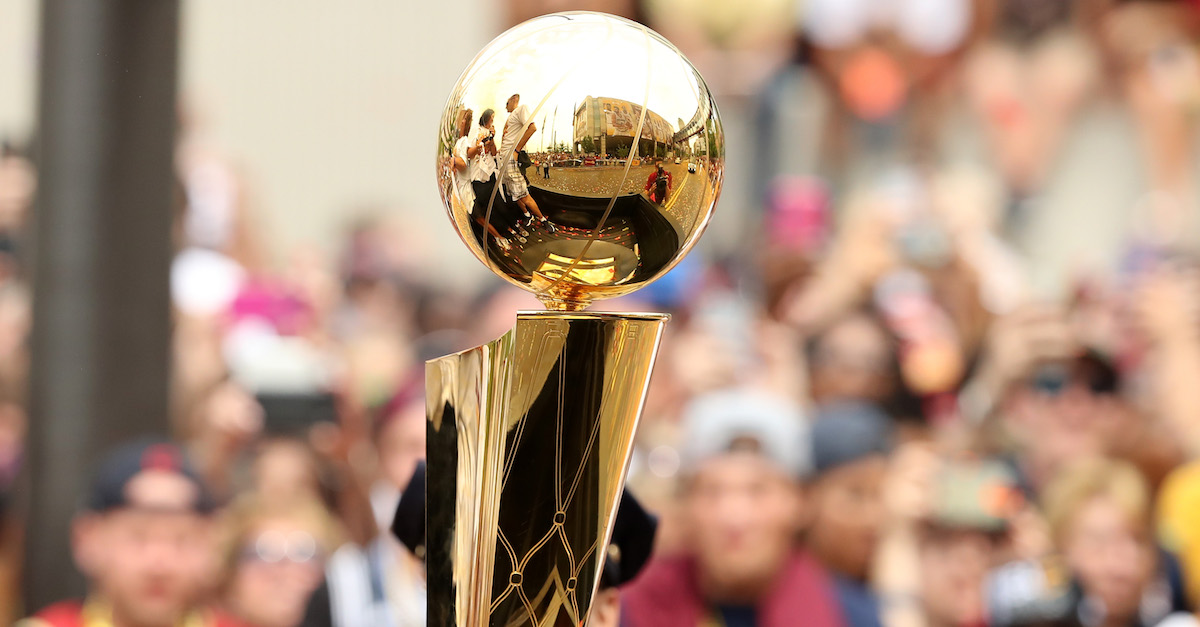 CLEVELAND, OH - JUNE 22: The Larry O'Brien trophy sits on a float during the Cleveland Cavaliers 2016 NBA Championship victory parade and rally on June 22, 2016 in Cleveland, Ohio. (Photo by Mike Lawrie/Getty Images)
If you've watched the NBA at all in the last 19 years you have undoubtedly seen Tim Duncan of the San Antonio Spurs. The unassuming and quiet living legend is "leaning strongly" toward retiring according to The Vertical. The 19-year vet and 40-year old spent four years at Wake Forest where he was named to the AP All-American first team twice and was the Wooden Player of the Year in his senior season.
RELATED: Draymond Green talks about how no one can talk trash to Tim Duncan
Duncan has left team officials, close associates and friends with a strong belief he's preparing to make an announcement in the near future on his departure, sources said. Duncan recently elected to exercise the $5.6 million player option on his 2016-17 contract – a payment the Spurs could still make to Duncan regardless of whether he plays or retires.
RELATED: Tim Duncan joins exclusive club with win over Jazz
Duncan nearly became a member of the Orlando Magic in 2000 when he became a free agent, but that was the closest he ever came to leaving the Spurs. He's been with the team ever since he was drafted first overall in 1997 and has been to 15 All-Star Games, has won five NBA Finals — and winning the MVP of the series three times — and two league MVP awards.
For his career, Duncan has averaged 19 points, 10.8 rebounds, 2.2 blocks and three assists. In 61 games last season, he averaged 8.6 points and 7.3 rebounds in a little more than 25 minutes a night. If Duncan does retire he will finish in the top 10 of four major statistical categories for a career — total rebounds, blocks, minutes played and games played.
Duncan has earned nicknames like "The Big Fundamental" and "Groundhog Day" for his strong use of the bank shot, solid fundamentals and his consistency year to year despite his age. The Spurs lost to the Thunder this postseason in the conference semifinals in six games.