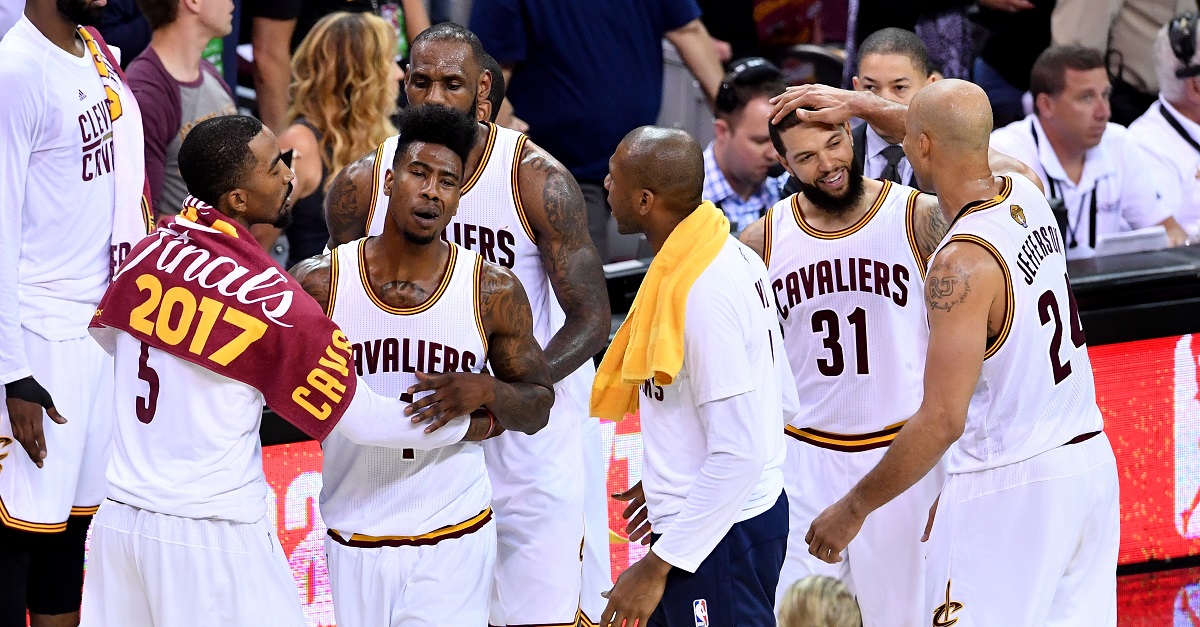 Jason Miller/Getty Images
CLEVELAND, OH - JUNE 09: JR Smith #5, Iman Shumpert #4, LeBron James #23, James Jones #1, Deron Williams #31 and Richard Jefferson #24 of the Cleveland Cavaliers react in the third quarter after a play against the Golden State Warriors in Game 4 of the 2017 NBA Finals at Quicken Loans Arena on June 9, 2017 in Cleveland, Ohio. NOTE TO USER: User expressly acknowledges and agrees that, by downloading and or using this photograph, User is consenting to the terms and conditions of the Getty Images License Agreement. (Photo by Jason Miller/Getty Images)
The Cleveland Cavaliers are reportedly discussing a trade that would send Richard Jefferson and Kay Felder to the Atlanta Hawks, sources confirmed to Shams Charania of The Vertical.
Atlanta will reportedly also receive two future second-round draft picks from the Cavaliers, according to ESPN's Adrian Wojnarowski
The deal would help Cleveland finalize its 15-man roster and get rid of additional salaries from Jefferson and Felder's contracts.
The Cavaliers will reportedly take on the rights to Dimitrios Agravanis (Olympiacos) and Sergii Gladyr (AS Monaco), sources told USA Today's Sam Amick.
This move also had to be a trade or else the Cavaliers would not have been able to shed the necessary salary cap hits to save some money:
Jefferson provided the Cavaliers with an additional veteran presence during the past two seasons. He averaged 5.5 points per game during 17.9 minutes per game during Cleveland's NBA Championship run in 2015-16.
Jefferson was also an elite swingman early in his career as a member of the then-New Jersey Nets, averaging a career-high 22.6 points per game in 2007-08, as well as a career-high .844 free throw percentage, 7.3 rebounds per game and 4.0 assists in 2004-05.