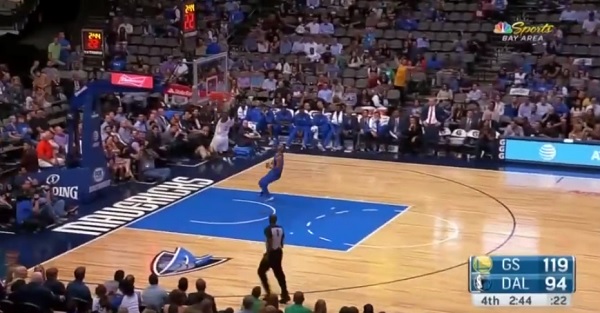 Oddshot/Screenshot
As the Golden State Warriors were coasting to a 133-103 win over the Dallas Mavericks, one player from the Warriors caused some controversy in the final minutes of the game.
With the Warriors up by 25 points, rookie Jordan Bell found himself in a fastbreak situation where he opted to throw an alley-oop pass to himself off of the backboard for a dunk.
While most of the players on the Warriors' bench were celebrating the highlight dunk, Mavericks head coach Rick Carlisle took exception to the dunk and was not happy about it.
Warriors head coach Steve Kerr said he would talk to Bell about the incident. Forward Draymond Green defended Bell's dunk after the game to reporters. He said he believed Bell was in the right to dunk the ball and that it's the opposing team's job to defend and play the game for all 48 minutes of regulation.
There is a clear divide between the league's old-school coaches and players and the younger players as the veterans of the league don't agree with Bell's dunk while younger players in the league see it as Bell just having fun.
It's likely that Bell will think twice about it next time if he finds himself in the same situation.