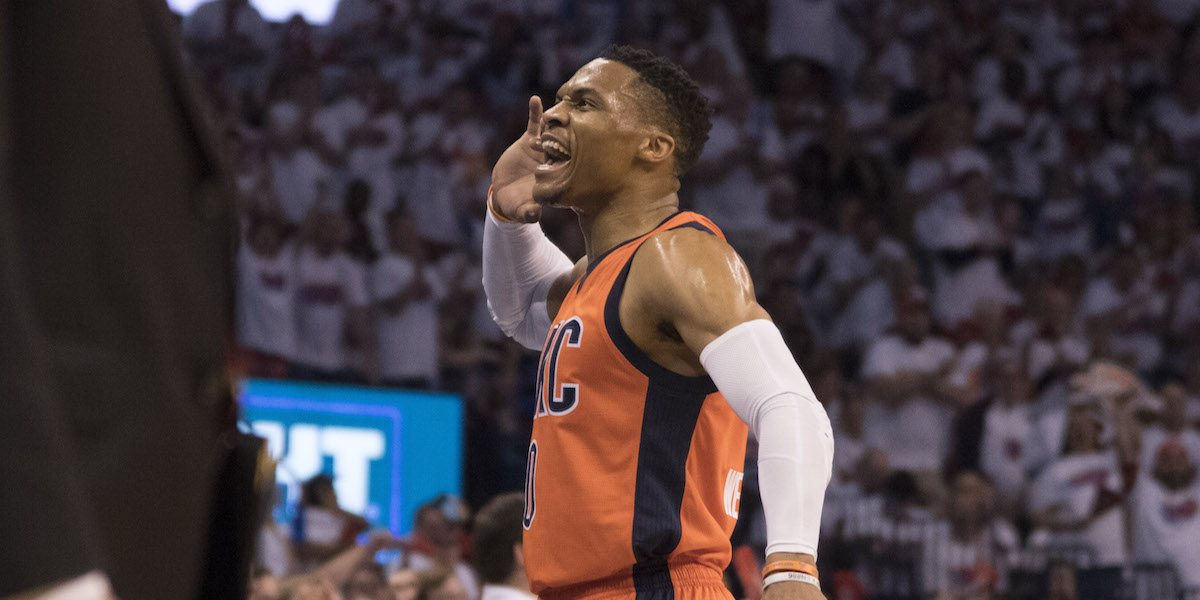 J Pat Carter/Getty Images
OKLAHOMA CITY, OK - APRIL 23: Russell Westbrook #0 of the Oklahoma City Thunder reacts after scoring against the Houston Rockets during the first half of Game Four in the 2017 NBA Playoffs Western Conference Quarterfinals on April 23, 2017 in Oklahoma City, Oklahoma. Oklahoma City defeated Houston 115-113 NOTE TO USER: User expressly acknowledges and agrees that, by downloading and or using this photograph, User is consenting to the terms and conditions of the Getty Images License Agreement. (Photo by J Pat Carter/Getty Images)
NBA MVP Russell Westbrook has reportedly agreed to a five-year, $205 million contract extension with the Oklahoma City Thunder, according to ESPN's Adrian Wojnarowski.
The deal will begin with the 2018-19 season, guaranteeing Westbrook be paid a total of $233 million through 2022-23, which is the largest contract in NBA history.
Wojnarowski reported that Westbrook's agent Thad Foucher and Oklahoma City general manager Sam Presti finalized the deal on Friday.
With the new agreement, Oklahoma City avoids potentially losing its franchise player to free agency next summer. The Thunder added former all-stars Paul George and Carmelo Anthony this offseason, but both players could test free agency in July.
Westbrook, a two-time All-Star Game MVP, enjoyed a career season in 2016-17, averaging a triple double in points (31.6), assists (10.4) and rebounds (10.7) per game to win the NBA MVP award. He lead the Thunder to a sixth-place finish in the Western Conference and playoff appearance in the franchise's first season without former MVP Kevin Durant, who signed with the Golden State Warriors last offseason.
Westbrook, a former No. 4 overall pick, has emerged as one of the NBA's biggest stars and seems to be shining even brighter in Durant's absence. With the addition of George and Anthony, the Thunder are expected to be one of the biggest challengers to the defending NBA champion Warriors in the Western Conference.