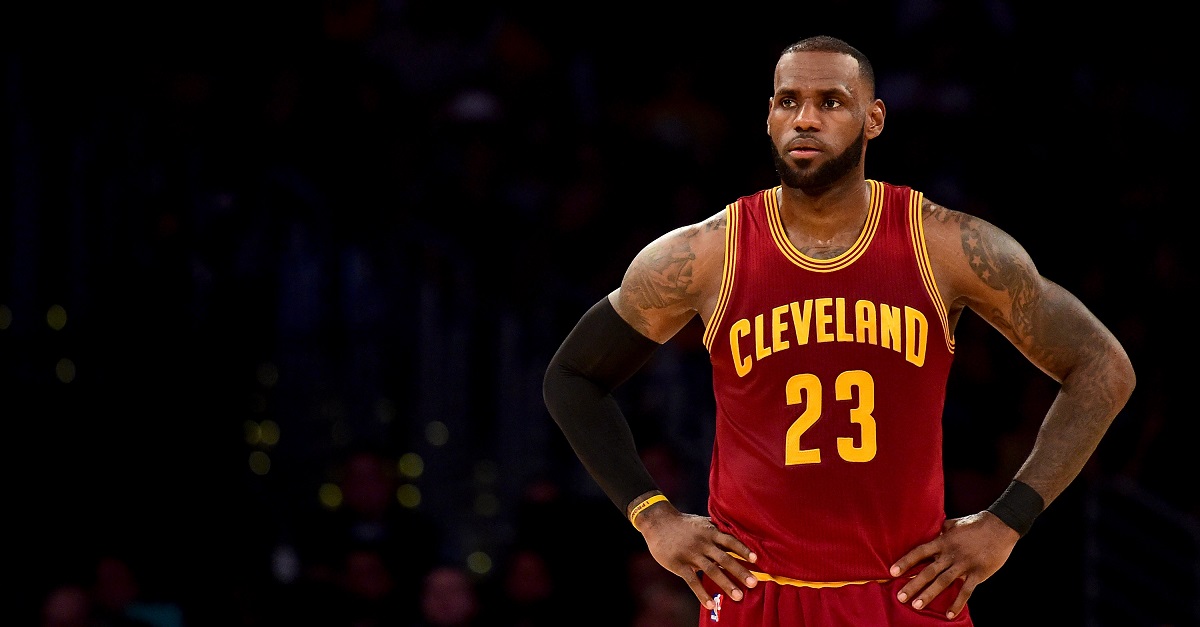 Harry How/Getty Images
LOS ANGELES, CA - MARCH 19: LeBron James #23 of the Cleveland Cavaliers waits during a 125-120 win over the Los Angeles Lakers at Staples Center on March 19, 2017 in Los Angeles, California. NOTE TO USER: User expressly acknowledges and agrees that, by downloading and or using this photograph, User is consenting to the terms and conditions of the Getty Images License Agreement. (Photo by Harry How/Getty Images)
LeBron James submitted his worst postseason performance in years during the Cleveland Cavaliers' 111-108 home loss in Game 3 of the Eastern Conference Finals.
As LeBron was leaving the court after the game, he was heckled by a fan about his performance.
According to the Associated Press, LeBron asked the fan to repeat himself so he could hear the insult again. The fan was escorted away, and there are conflicting reports on what was actually said from ESPN's Brian Windhorst.
Related: LeBron James takes subtle shot at Boston Celtics before highly-anticipated matchup
One report from Windhorst said the fan bragged about playing college basketball, while the other said he only played high school basketball.
During the press conference following the game, LeBron had another quip for a reporter who asked him a question.
"You only ask questions when we lose," James said.
The reporter, Kenny Roda, disputed LeBron's claim on Twitter.
LeBron only scored 11 points and made only four of his 13 field goal attempts in the loss. The Cavs led the Celtics by more than 20 points, but Boston stormed back in the second half and won after Avery Bradley nailed a 3-pointer with less than one second remaining.
It was the Cavs' first loss of the postseason, and James was understandably frustrated after the game. LeBron and the Cavs will look to avoid a second straight loss on Tuesday.
(h/t CBS Sports)