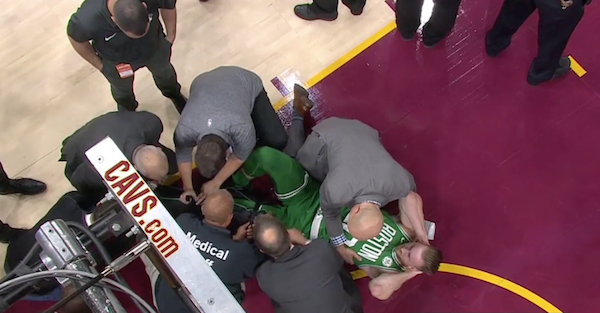 Clippit screenshot
NBA opening night got off to an emotional start after Boston Celtics forward Gordon Hayward suffered a fractured tibia and dislocated ankle against the Cleveland Cavaliers early in the first quarter.
While most of the NBA and sports world showed an outpouring of support and love, Fox Sports 1 analyst Skip Bayless sent out the following:
He was met with a storm of responses, mostly on the careless nature of his tweet and the thought process of caring more about the lightening rod of sports talk, LeBron James' path to the NBA Finals, than a human being who was writhing in pain just moments prior.
As for Hayward, the broadcast noted it is a fractured ankle for Hayward.
Hayward was cutting along the baseline when he jumped for an alley-oop and fell to the floor with his leg bent underneath him.
Hayward's leg was stabilized and he was carted off the floor. LeBron James, Cavaliers players and Celtics teammates shoot Hayward's hand before he left the court.
Hayward, the former No. 9 overall selection, visited the Miami Heat, Celtics and Utah Jazz before making his free agency decision, eventually landing with Boston. He spent seven years with the Jazz.
Hayward, who is coming off an All-Star year for the Jazz and made it to the second round of the NBA playoffs, shook up the power in the Eastern Conference by adding a legitimate second offensive weapon to a Celtics team lacking one in last year's playoffs.
He averaged a career-best 21 points and five rebounds per game last season.