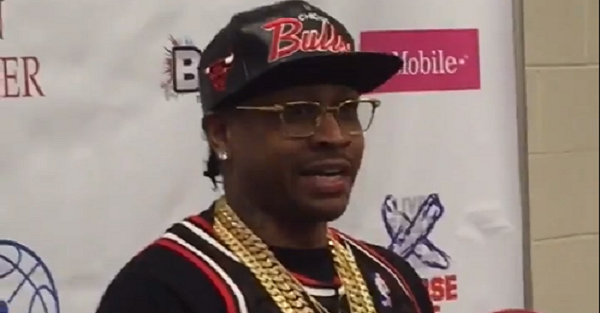 Twitter/@2TallBlake
Allen Iverson is a legend for multiple reasons: his 24,368 points scored, the way he carried a terrible 76ers team to the NBA Finals and of course for his practice rant. That is an interview answer that will live on forever thanks to the YouTube age and people's unwillingness to practice at times.
RELATED: 14 years later and we are all still 'talkin' bout practice'
Well, someone thought they were either funny or somehow had no clue that rant exists as they asked A.I. about practice nowadays and his feelings are pretty much the same.
Here's the transcript you didn't quite catch what he said.
"Obviously you didn't get it. Obviously you didn't get it when I explained it, man. I thought I cleared that up. I didn't think I'd ever get that question again. See, you might have not seen the documentary, so I'll give you that. I'm just gonna hope you didn't see it. You just heard me say I was the MVP. That's the best player in the whole world. You think I can be the MVP without practicing? That'd be a bad motherf*cker."
That would be one bad dude. I will definitely give him that. Iverson is set to enter the Naismith Hall of Fame this year along with Shaquille O'Neal and Yao Ming to name a few people.
[h/t Bro Bible]