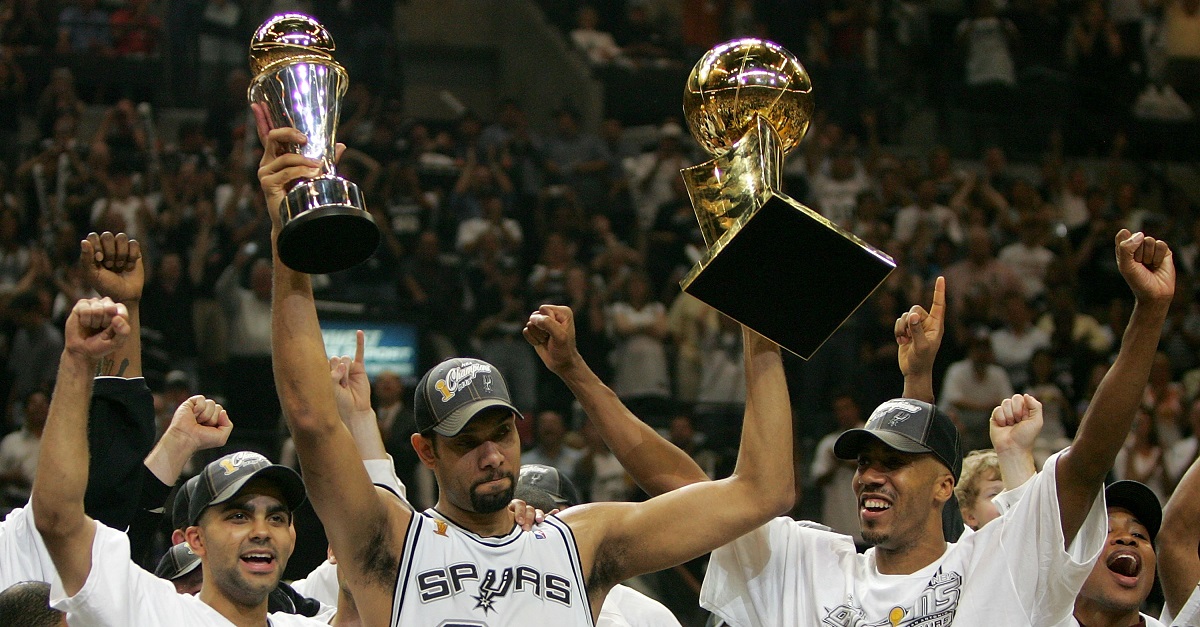 Ronald Martinez/Getty Images
SAN ANTONIO - JUNE 23: Tim Duncan #21, center, holds up the Finals MVP trophy and the Larry O'Brien trophy as teammates Tony Parker #9, left, and Bruce Bowen #12 of the San Antonio Spurs celebrate after defeating the Detroit Pistons in Game seven of the 2005 NBA Finals at SBC Center on June 23, 2005 in San Antonio, Texas. The Spurs defeated the Pistons 81-74 and win the NBA Championship series 4-3. NOTE TO USER: User expressly acknowledges and agrees that, by downloading and/or using this Photograph, user is consenting to the terms and conditions of the Getty Images License Agreement (Photo by Ronald Martinez/Getty Images)
Former NBA champion Stephen Jackson has been around his fair share of great big men including Jermaine O'Neal, David Robinson and Tim Duncan. In fact, he believes that the "next Tim Duncan" is already in the league and is playing for the New Orleans Pelicans as he told Mike & Mike on their radio show Tuesday morning:
Anthony Davis does have a great back-to-the-basket game as well as a nice mid-range shot like Duncan did in his prime. However, Davis has done a lot more losing in his first few seasons than Duncan ever did. And that's not Davis's fault as he really hasn't had a lot of talent surrounding him. It remains to be seen if Davis will ever win like Duncan, but he certainly plays like the future Hall of Famer.
Last season Davis averaged a career-high 28 points a game as well as 2.2 blocks, 11.8 rebounds and 2.1 assists last season. Duncan maxed out at 25.5 points per game, but is also known for late-game heroics as well as making his teammates better and being a consummate professional. Of course, Duncan is also a five-time NBA champion, three-time Finals MVP, two-time league MVP, 15-time All-Star and 8-time NBA All-Defensive First Team selection. So no pressure for Davis or anything.