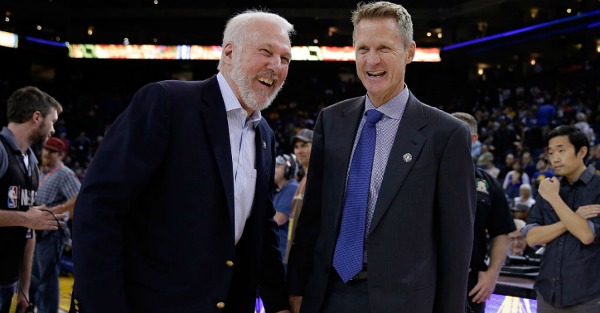 Ezra Shaw/Getty Images
at ORACLE Arena on November 11, 2014 in Oakland, California. NOTE TO USER: User expressly acknowledges and agrees that, by downloading and or using this photograph, User is consenting to the terms and conditions of the Getty Images License Agreement. Ezra Shaw/Getty Images
Steve Kerr will reportedly be sticking around as the head coach of the Golden State Warriors for the foreseeable future, according to The Athletic.
Kerr, Warriors general manager Bob Myers and owner Joe Lacob all told The Athletic on Sunday that they "fully expect that Kerr will sign an extension next summer." Kerr has dealt with his share of health issues over the course of the past couple of years and wanted to make sure that he was fully healthy before signing a contract extension.
?We just agreed we'd wait,? Kerr said. ?I've got two years left on my deal and wanted to make sure that everything went well this year health-wise. And I don't anticipate any issues going forward. … I don't have any desire to be anywhere else. So I'm sure when we get down to it, we'll come to an agreement pretty quickly.?
Kerr, the 2015-16 NBA Coach of the Year, has missed time as head coach over the past two seasons after enduring complications from back surgery in 2015, including 11 games during last season's playoff run. The Warriors have made the NBA Finals in each of his three seasons as head coach and the team has won two championships during that time. He has guided the Warriors to a 211-42 record in those three seasons.
Given his success with the Warriors, it seemed like a formality that he would eventually sign a contract extension with the team as long as he remained healthy enough to do so. Kerr's current contract runs through the 2018-19 season and it seems as though he'll remain with the Warriors for years beyond that.
The Warriors are currently 4-3 this season through the team's first seven games.