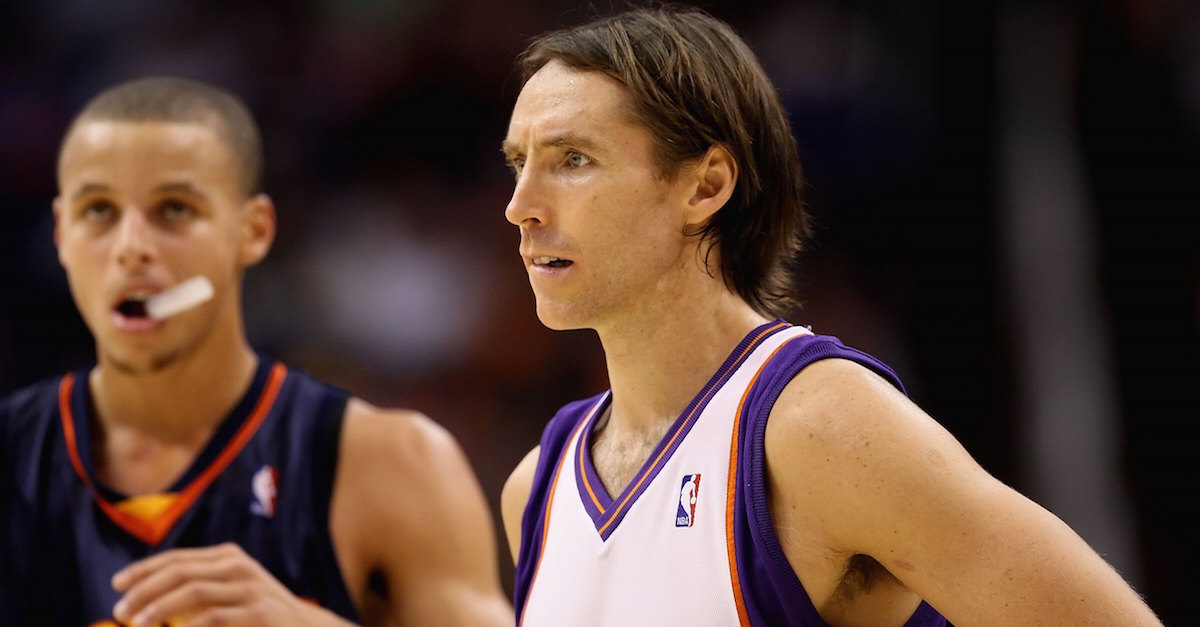 PHOENIX - OCTOBER 30: Steve Nash #13 of the Phoenix Suns during the NBA game against the Golden State Warriors at US Airways Center on October 30, 2009 in Phoenix, Arizona. The Suns defeated the Warriors 123-101. NOTE TO USER: User expressly acknowledges and agrees that, by downloading and or using this photograph, User is consenting to the terms and conditions of the Getty Images License Agreement. (Photo by Christian Petersen/Getty Images)
Stephen Curry is coming off a dream season in which he took his Golden State Warriors to the NBA Finals, was awarded the MVP trophy and supplanted himself as one of the best shooters in the league.
For former MVP Steve Nash, the point guard has high praise for Curry.
From Bleacher Report, on if Curry is the greatest shooter ever:
"The only pause I have is from fear of being ignorant," he said. "Am I missing someone? Does he need to play longer or do it longer? Does he have to do it in the playoffs more years? But my first reaction is, 'Why not?' He's as good as anyone I can think of on every level?pure shooting, array of shots, percentage, getting hot, plays to the end?he checks all the boxes."

"Truly, from the eye test, he's the greatest there's ever been."
Curry is a career high-40 percent shooter, mid-40 percent from 3-point range and upper-80 percent free-throw shooter. He might be the best we've ever seen at creating on his own and knocking down just some insane shots. Like Nash says, maybe we just need to see him do it a bit longer to be up in that class.
Ray Allen and Reggie Miller were both elite shooters in their own right, but it's fair to say neither could create for themselves the way Curry has and can. He'll face arguably his biggest test to date when he takes on LeBron James and the Cleveland Cavaliers on the biggest stage — the NBA Finals — Thursday evening.