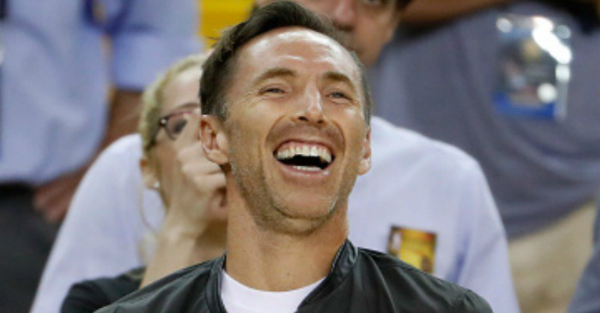 ABC 15 Sports via Twitter
Steve Nash was a great player. He played 18 seasons in the NBA in Dallas, Phoenix and Los Angeles, and was a consummate point guard who could handle the ball and shoot. He averaged double digits in assists seven times, shot .428 from three for his career, and was a two-time MVP. The only thing he didn't do was win an NBA title. Phoenix went to the Western Conference Finals four out of six seasons (2004-2005 to 2009-2010) and lost each time.
But Nash's streak ended when the Golden State Warriors beat the Cleveland Cavaliers 4-1 to win the 2017 NBA championship. Nash is a team consultant and member of the front office, and will get that coveted ring.
He was caught, at court side, beaming, and recording head coach Steve Kerr's remarks during the trophy presentation:
And wow, was he happy.
Congratulations to a real pro.