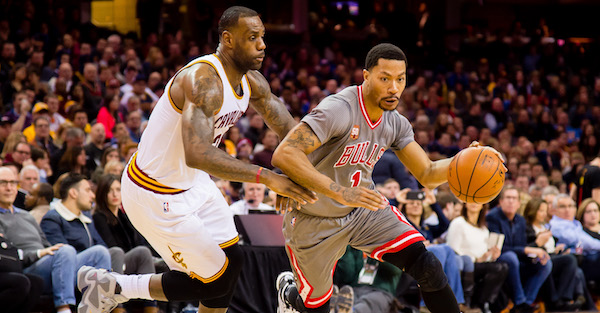 Jason Miller/Getty Images
CLEVELAND, OH - JANUARY 23: Derrick Rose #1 of the Chicago Bulls drives around LeBron James #23 of the Cleveland Cavaliers during the second half at Quicken Loans Arena on January 23, 2016 in Cleveland, Ohio. The Bulls defeated the Cavaliers 96-83. NOTE TO USER: User expressly acknowledges and agrees that, by downloading and/or using this photograph, user is consenting to the terms and conditions of the Getty Images License Agreement. Mandatory copyright notice. (Photo by Jason Miller/Getty Images)
Former MVP Derrick Rose's tenure in New York may not even last a season. After waiving guard Brandon Jennings and big man Joakim Noah went on injured reserve, the Knicks are reportedly weighing trimming Rose:
General manager was reported to be in discussion with the Minnesota Timberwolves to acquire Ricky Rubio for Rose, but that deal never went down.
After attempting to force Carmelo Anthony out of town, it would appear Jackson is doing everything he can to make the veteran forward's life as miserable as possible down the stretch.