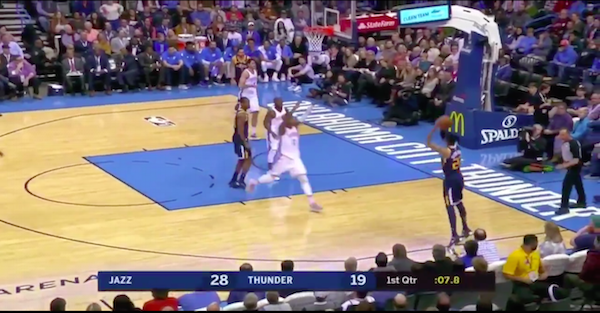 @ColinCBSSports/Twitter
@ColinCBSSports/Twitter
Utah Jazz veteran guard Thabo Sefolosha experienced one of the worst sequences in the history of basketball on Tuesday night.
During the first quarter of the Jazz's game at Oklahoma City, Sefolosha stole the basketball and looked to capitalize on an easy fastbreak.
However, he not only missed an open dunk attempt, but also airballed on an uncontested 3-pointer immediately afterward, as shown in the video below:
Man, that's rough.
There have been plenty of missed dunks and air balls in NBA history, but I'm not sure there has been a combination of both consecutively in one sequence.
Perhaps even worse, those were the only two shots Sefolosha missed during his first five minutes of action during Tuesday night's game.
Still, that didn't stop Utah from holding a 47-39 lead at halftime.