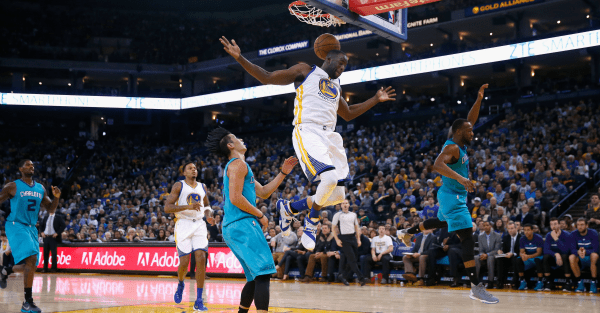 FanBuzz contributors Bo Churney and Ben Bornstein come on the second episode of the Air B. and B. to talk NBA All-Stars, who belongs and who doesn't, as well as biggest surprises and biggest disappointments of the season. There's even a Jeff Teague rant at the end for your enjoyment so listen all the way through!
[soundcloud url="https://api.soundcloud.com/tracks/243097636" params="auto_play=false&hide_related=false&show_comments=true&show_user=true&show_reposts=false&visual=true" width="100%" height="450" iframe="true" /]
Here's a segment breakdown of the podcast if you want to skip around and find a specific topic:
0:00 – FanBuzz All Stars
14:30 – Surprises this year
17:00 – East vs. West
26:30 – Houston, we have a problem
37:00 – MVP: Steph v. Kawhi v. Draymond
47:45 – Who can unseat the Cavs in the East?
55:30 – Playoff wild cards
1:10:00 – Why is Jeff Teague
You can also find the podcast on iTunes here.