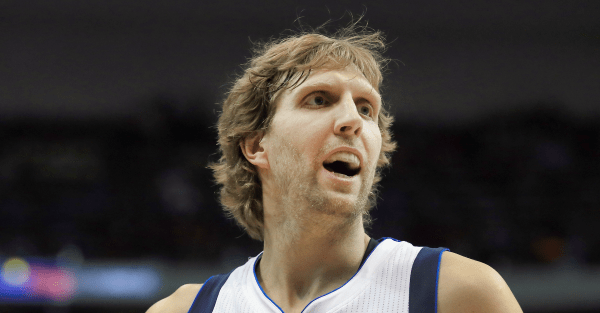 The fans of the NBA did a pretty decent job voting in the All-Stars this year for the game in Toronto. However, with there being limited spots there will always be some snubs. Kobe Bryant making it in as a starter proves how flawed the system is, but fortunately this will be the last year of that nonsense. These are the biggest ones of this season.
WESTERN CONFERENCE
Dirk Nowitzki (Dallas Mavericks): He has somehow been the best player on his team despite being the oldest at age 37. He is averaging 17.6 points, 6.7 rebounds, is shooting 90 percent from the free throw line, about 40 percent from beyond the arc, and 45 percent overall. The Mavs are also four games over .500 despite missing Chandler Parsons for a long stretch and only having one other go-to offensive player in Wesley Matthews. This year also marks the first time that neither Nowitzki nor Tim Duncan will be in the All-Star Game since 1997.
Damian Lillard (Portland Trail Blazers): Everyone overlooks Lillard because his team isn't winning as many games as it did last year and there are so many good point guards in the West. His field goal percentage is pretty low for a player of his caliber at only 42 percent, but he is pretty much keeping this team in playoff contention by himself. He's averaging 24.3 points, 7.1 assists, 4.4 rebounds, and is shooting about 38 percent from beyond the arc.
Gordon Hayward (Utah Jazz): Hayward gets no love because he is playing for a bad team and nobody is watching the Jazz's games. Hayward has gotten better each year he's been in the league and he's also a guy who does a lot for his team. He's shooting 38 percent from beyond the arc, 44 percent overall, and really runs the Jazz offense from the small forward position. He also scores 20 points a game, dishes out 3.6 assists, and grabs five boards a game too. When the Jazz finally get good Hayward will get some much needed recognition.
EASTERN CONFERENCE
Kemba Walker (Charlotte Hornets): This is another guy who lost a spot because his team has played poorly. The Hornets went on a 1-9 skid in January and that has cost them an All-Star and valuable playoff seeding. Walker leads the team in scoring at 20.5 per game and has had to shoulder a heavy load with Nicolas Batum out for a stretch this season. He averages 1.8 steals, five assists, and 4.2 rebounds per game. You could also make the argument he's had a lot more exciting plays this season than starters John Wall and Kyle Lowry.
Al Horford (Atlanta Hawks): Last year's All-Star Game featured four Hawks make it to the game, but this year only Paul Millsap made the cut. Horford certainly can make a case as he's been just as integral to this Hawks team as his frontcourt running mate. Horford is shooting 50 percent from the field despite stepping out and taking more threes this year than any season before. He averages about 15 points and seven boards per game, but is also good for three assists a game too. The Hawks not dominating this season like they did last year is probably why Horford didn't get the nod.
Khris Middleton (Milwaukee Bucks): Middleton is averaging a career-high 17.8 points per game and has a player efficiency rating of 16.6 on the season. He shoots 42 percent from three-point land and 44 percent overall. This is yet another case of a great player on a mediocre team not getting some of the love he deserves.