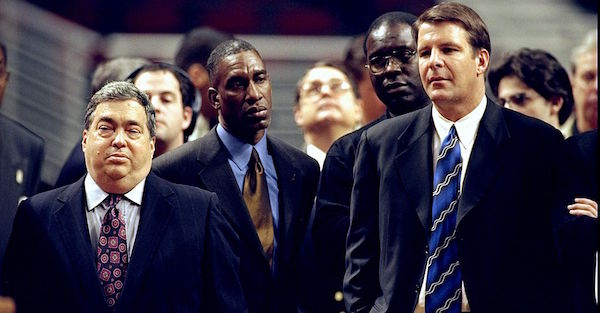 Jonathan Daniel/Allsport
18 Jan 1999: Chicago Bulls (L) general manager Jerry Krause stands with Bulls coach Tim Floyd (R) at Michael Jordan's retirement press conference at the United Center in Chicago, Illinios. Mandatory Credit: Jonathan Daniel /Allsport
Former Chicago Bulls general manager Jerry Krause passed away at the age of 77 on Tuesday afternoon.
Related: Bulls GM admits why Michael Jordan will always be better than LeBron James
Krause became the Bulls' GM in 1985, and he was responsible for drafting Scottie Pippen and Horace Grant in the 1987 NBA Draft. He also hired Phil Jackson to replace Doug Collins as head coach.
The Bulls won six NBA championships during his tenure as general manager, led of course by Michael Jordan. Krause retired as GM in 2003.
Krause won the NBA's Executive of the Year award twice during his career.