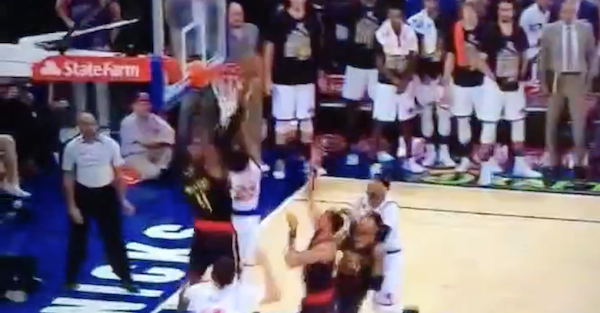 Vine Screen Shot
The New York Knicks have been a comedy of errors lately, and their latest loss to the Atlanta Hawks came down to one ghastly possession.
Related: The wretched 76ers beat the awful Knicks on a last second shot partly because Melo can?t play defense
Trailing the Hawks 108-107 with only a few seconds remaining, Derrick Rose drove the lane and had his shot rejected by Paul Millsap. Carmelo Anthony snagged the rebound and missed an easy put back jumper, and Joakim Noah couldn't make the top fall..
There was a teeny of controversy because Rose clearly got hit on the play, but the refs let the play continue. But it wasn't enough too make a huge fuss over.
The Knicks dropped to 18-24 on the season, and have lost 10 or 12. They play at the Boston Celtics on Wednesday.