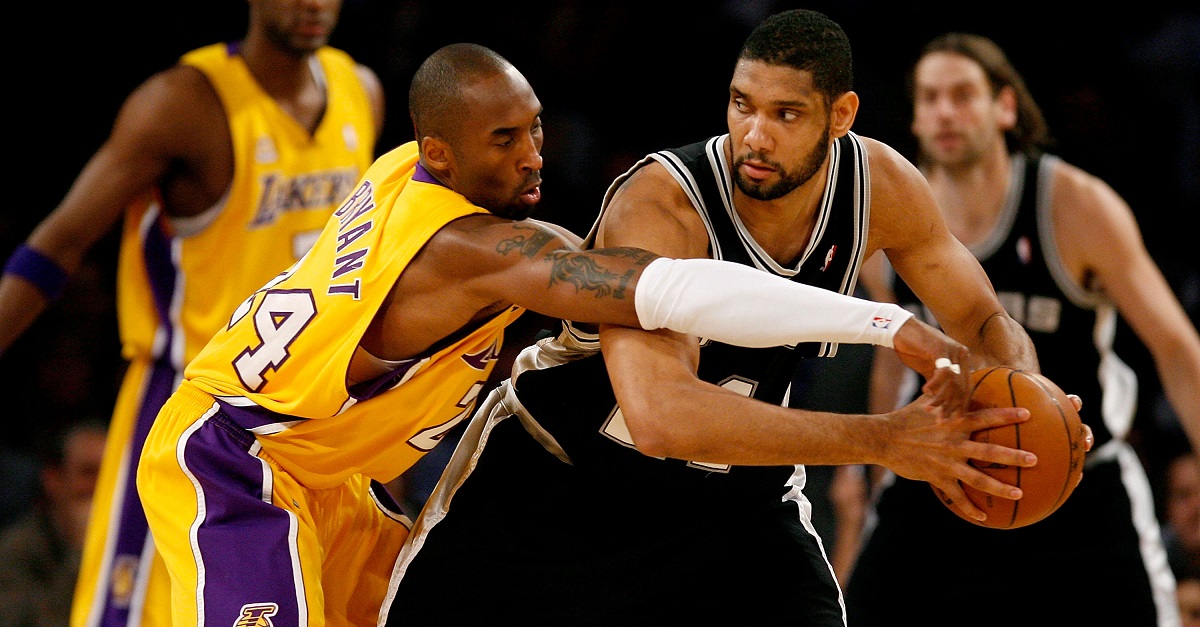 Jeff Gross/Getty Images
LOS ANGELES, CA - MAY 23: Kobe Bryant #24 of the Los Angeles Lakers reaches in on Tim Duncan #21 of the San Antonio Spurs in Game Two of the Western Conference Finals during the 2008 NBA Playoffs on May 23, 2008 at Staples Center in Los Angeles, California. NOTE TO USER: User expressly acknowledges and agrees that, by downloading and/or using this Photograph, user is consenting to the terms and conditions of the Getty Images License Agreement. (Photo by Jeff Gross/Getty Images)
The NBA has already lost two living legends to retirement this offseason in Kobe Bryant and Tim Duncan. It's looking like we're losing another one unfortunately as his time has run out in the league even though we all thought he could play forever.
Among all the legends retiring this one has decided to keep his legacy going
Kevin Garnett has been playing in the league for over 20 years and doing so at a high level. He averaged 17.8 points and 10 rebounds per game over the course of his long and storied career. He of course got his only NBA Finals ring with the Boston Celtics in 2008 with Ray Allen, Paul Pierce and Rajon Rondo and was then traded to the Brooklyn Nets. Eventually he made his way back to his roots with the Minnesota Timberwolves to mentor their young core of Zach LaVine, Karl-Anthony Towns, Andrew Wiggins and Shabazz Muhammad.
RELATED: Kobe tells his coach he's retiring in the funniest way possible
It seems that the Timberwolves and Garnett have come to an understanding and will mutually part ways, likely leading to his retirement.
RELATED: Tim Duncan calls it a career
Garnett has said for a long time that he would want to finish his career in Minnesota so you have to think that the 40-year old is going to probably put up the shoes and work behind the scenes for the team. He's expressed interest in owning the team so it only makes sense that he would stay around and try to learn a thing or two about how the front office works. Hopefully the Timberwolves can make it happen and keep KG on the staff somehow.