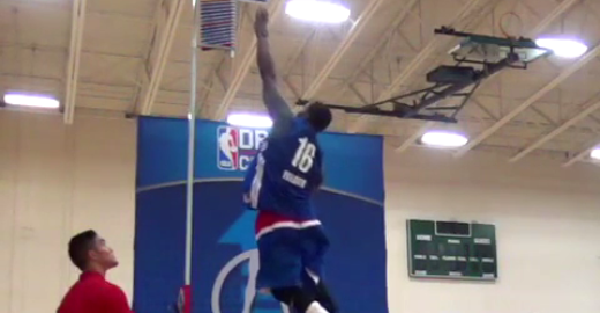 Kay Felder is a 5'8″ point guard who played at Oakland and had a pretty great season in 2015-16. He averaged 24.4 points, 9.3 assists and 4.3 rebounds all while standing less than six feet tall. Normally that would get some players a lot of mock draft love, but not for Felder who is expected to go very late in the second round if at all.
At the NBA Combine in Chicago, Felder certainly gave the scouts and GMs something to gawk at as he tied for the second-highest max vertical jump in combine history!
Maybe teams will start to take Felder a little more seriously now. The Warriors' Draymond Green is and he wants everyone to know about Felder too because he's an "outside the box" kind of draftee.
Green knows a thing or two about being overlooked considering he was taken in the second round and is now a triple-double machine in the league.
[h/t For the Win]