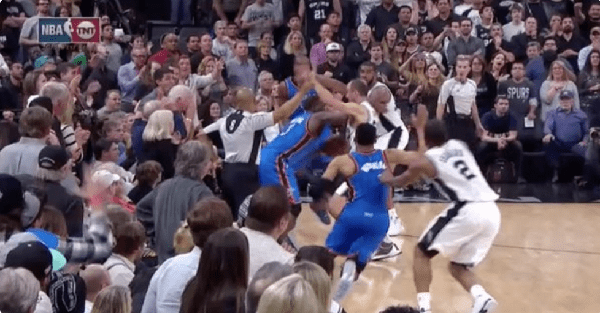 The San Antonio Spurs and Oklahoma City Thunder were in one of the best playoff games of this postseason and of course it would come down to an official to decide the game. With OKC up 98-97 the Thunder had the ball out of bounds to potentially seal the game at the free throw line. However, the refs and Dion Waiters had other plans.
Waiters was inbounding the ball and blatantly pushed off Manu Ginobili while still standing out of bounds. That should have been some sort of call whether it was a technical or even a common foul at that point. Here's the video and several angles.
The Spurs did get the ball on a sloppy inbounds play and got a shot off, but Patty Mills couldn't hit the corner three. This is a game that should be protested by the Spurs and the game should at the very least be played from that moment back even if the Spurs aren't awarded the ball or technical free throws.
A 43-point outburst from LaMarcus Aldridge goes down the drain and now the Spurs will have to steal a game on the road in Oklahoma City to get home court advantage back. Even Mark Cuban got in on the action and you know the Mavericks owner does not like the Spurs at all!
This is why we can't have nice things.