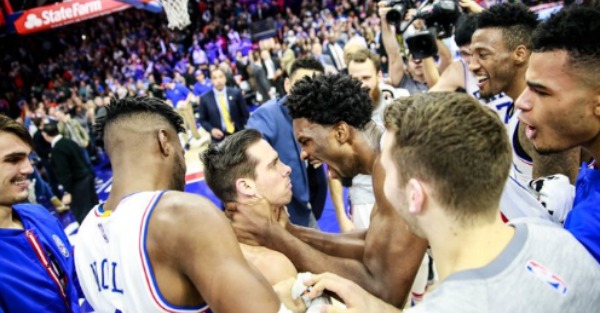 @Sixers/Twitter
The Philadelphia 76ers are on a bit of a tear (for them at least) after a buzzer-beating victory over the Knicks Wednesday night.
And it was a game that the Sixers had no business putting in the win column.
Down 93-83 with 2:29 left on the clock, a series of fortuitous bounces of the ball all in short order—a Joel Embiid and one, a transition three-pointer from Robert Covington after an Embiid theft of Derrick Rose, and an Embiid three-point bank shot—all conspired to trim the lead to a one-point deficit, setting up the T.J. McConell turnaround game-winner at the buzzer and the 98-97 victory.
Philadelphia, who's been the NBA's most futile franchise for a good while, has now won four of their last five and two in a row. And after just 36 games, they've already equaled last season's win total of 11 and surpassed their win total of 10 from two seasons ago.
RELATED: Jae Crowder stuck his finger in John Wall's face and that was a mistake
Meanwhile, the Knicks are trending in the opposite direction. They've now lost three in a row and nine of their last 10, giving them sole possession of the NBA's worst record since Christmas Day.
Embiid, the star of the game on Philly's side with 21 points and 14 rebounds, showed off his moves after the win by dancing with Sixers cheerleaders.