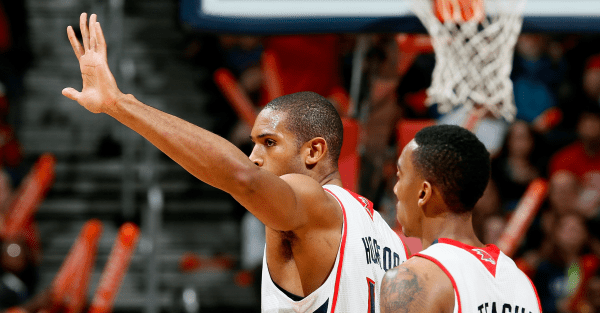 The Atlanta Hawks understandably love them some Al Horford and Jeff Teague. They took Horford with the third overall pick in 2007 and Teague was a steal as the 19th pick in the 2009 NBA Draft. The two have been a great duo with five All-Star selections between them (Horford has four) and have been the soul of this Hawks team for the last few seasons including last year's squad that won 60 games for the first time in franchise history.
There have been a lot of rumors about the two players getting moved by the Hawks for a blow-up and reboot of the core. However, those rumors seem to be false as Pro Basketball Talk is reporting. The only way those two get moved is for a "Godfather-type deal."
Chris Mannix of The Vertical podcast and Yahoo Sports says that the team is not seriously considering moving the franchise cornerstones.
According to a couple of executives, Atlanta is not really serious about trading Teague or Horford. They?re just looking for one of those Godfather-type of deals.
There are teams very interested in Horford, including Toronto (they need a four and with Horford could challenge Cleveland), but he is also a free agent this summer so teams are hesitant to give up too much without knowing if they can retain him. Teague is believed to be the guy who is more likely to get moved and that could happen this summer after teams miss out on their free agents.