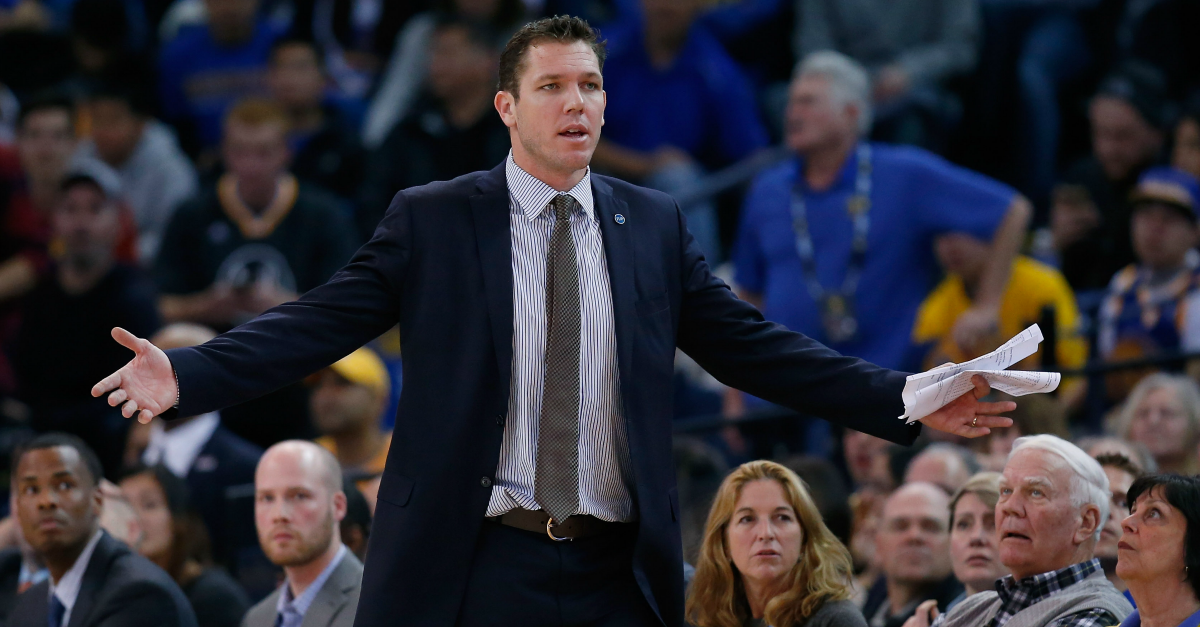 RELATED: Knicks part ways with Derek Fisher
__________________________________________________________________________________________________________________
There will be a few teams this offseason who will need to find a new head coach. The New York Knicks, Houston Rockets and Minnesota Timberwolves come to mind. These three teams are heading in different directions and so could use different coaches to get them to the ultimate goal of a deep playoffs run. The Wolves are looking the likelier of the group to get there as the young core of Ricky Rubio, Zach LaVine, Karl-Anthony Towns and Andrew Wiggins look poised to make the next leap in both winning percentage and play on the court.
The following list contains the five best coaches available (that are realistic hires) for these teams when they decide to go get their coach of the future and finally compete for something more than lottery picks in the NBA Draft or first round exits in the case of the Rockets.
1. Luke Walton – He has obviously been successful as the interim head coach of the Golden State Warriors leading them to a 39-4 record until Steve Kerr came back to coach. He is knowledgeable with every facet of the triangle offense, which would blend well with what Phil Jackson wants in New York. He would also get his chance to coach one of the best cores in basketball and create his own dynasty with the Wolves while he could be coaching one of the best players in the league — James Harden —- if he decides to go to Houston.
2. Jeff Van Gundy – "The Real JVG" has history with Houston and had a fantastic stint there from 2003 to 2007 and that was the last place he coached so it would be coming full circle if he came back and forced Harden to play some damn defense. Van Gundy may be too old and may not have the patience to go through any growing pains with the Timberwolves so that job may not be as appealing to him. He also has history with the Knicks though, but is unlikely to want to take orders from Phil, especially to play an offense he doesn't really run.
3. David Blatt – Blatt was unfairly fired by the Cleveland Cavaliers and will definitely be looking to get back into the coaching game this summer. He was supposed to take over a work in progress when he took the Cavs job, but LeBron James was thrown in his lap and he didn't stand a chance with James pulling the strings. Blatt's perfect landing spot would be in Minny because he should have teamed up with Wiggins in Cleveland before he was traded to make room for James. He could create the team in his own image and prove he's a better coach than Cavs fans might have you think.
4. Tom Thibodeau – We all know Thibodeau's teams play defense and play it darn well. The Bulls were tops in the league on defense for the five years he was head coach there and he has always been known as a defensive mastermind. Considering the Timberwolves were bottom ten in the league in points allowed, Thibs might be a good change of pace. The Rockets were also bottom ten in points allowed, but would Thibs be able to get Harden to play defense? That's the biggest question.
5. Ettore Messina – The San Antonio Spurs assistant coach has been getting a lot of hype as a serious coaching candidate this summer and if he is anything like the other guys from the Popovich coaching tree there's a chance he could be an excellent coach. Much like Blatt, Messina has a lot of experience overseas twice being names Euroleague Coach of the Year and winning the Euroleague Championship four times. He could be the next Mike Budenholzer and whichever team ends up with him is surely hoping for that.
The Minnesota Timberwolves look like the most promising team out of the three and should be a fun place to coach whoever ends up there. The Timberwolves have already held interviews with Van Gundy, fellow ESPN broascaster Mark Jackson, Thibodeau and former Thunder coach Scott Brooks.