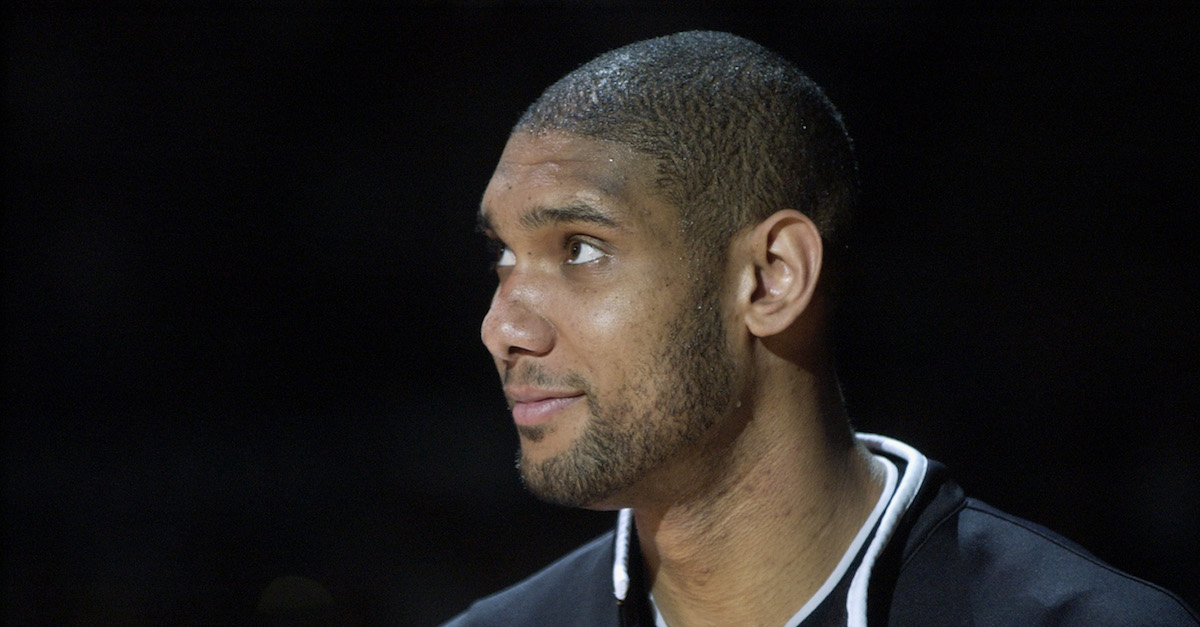 EAST RUTHERFORD, NJ - JUNE 11: Tim Duncan #21 of the San Antonio Spurs looks on before Game four of the 2003 NBA Finals against the New Jersey Nets at Continental Airlines Arena on June 11, 2003 in East Rutherford, New Jersey. The Nets won 77-76. NOTE TO USER: User expressly acknowledges and agrees that, by downloading and/or using this Photograph, User is consenting to the terms and conditions of the Getty Images License Agreement.(Photo by: Ezra Shaw/Getty Images)
Tim Duncan has gotten a chance to play with some great players like David Robinson, Tony Parker, Manu Ginobili, Bruce Bowen, Robert Horry and Steve Kerr. Duncan could have played with one more future Hall of Famer if he hadn't gotten cold feet and decided to re-sign with the New Jersey Nets in the summer of 2003.
RELATED: Tim Duncan retires
Former Net, Dallas Maverick and Phoenix Sun Jason Kidd told ESPN he still has nightmares about his decision not to sign with the Spurs and join Duncan in San Antonio. He was a free agent in 2003 and was the most coveted one that offseason after averaging 18.7 points, 2.2 steals and 6.3 rebounds per game. He also led the league averaging 8.9 assists that season on the Nets' way to the NBA Finals where the Spurs actually beat them.
RELATED: Jason Kidd almost took out a ref for a bad call
Kidd ended up making 10 All-Star games and won a ring with the Mavericks in 2011, beating the first incarnation of the Miami Heatles and their Big 3 of Chris Bosh, LeBron James and Dwyane Wade. He's also fifth in career three-pointers and is second behind only John Stockton in career assists.
?I thought I was going to be a Spur,? Kidd said on Monday. ?I committed when I was down there on my visit (to San Antonio). On my flight home, I think I got cold feet. And sometimes I have nightmares about that. Maybe I could have won a championship or two there. But I got really lucky with Dallas and won a championship.?
Kidd could have helped the Spurs get their first repeat championship if he was there for the 2003-04 season and ended up signing a six-year deal worth $103 million with the Nets that summer. Kidd later regretted the decision and called his missed opportunity to play alongside a five-time NBA champion and two-time MVP ?the biggest disappointment.?
Kidd also talked about how great of a teammate Duncan is having played with him on Team USA and in All-Star Games and says he could have seen himself definitely winning a championship or two with Duncan.