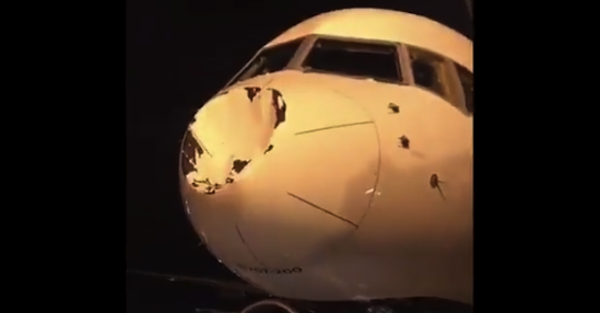 @pdpatt/snapchat
The Oklahoma City Thunder suffered a close-fought defeat at the hands of the Minnesota Timberwolves on Friday night but that turned out to be only the start of an adventurous night. In short, the Thunder flew from Minneapolis to Chicago following the game and, while their flight made it to Midway Airport safely, it did not arrive without incident.
The plane arrived with visible damage to the front of the aircraft and Erik Horne of The Oklahoman spoke to a Delta representative following its arrival.
"Delta flight 8935, operating from Minneapolis to Chicago-Midway as a charter flight for the Oklahoma City Thunder, likely encountered a bird while on descent into Chicago. The aircraft, a Boeing 757-200, landed safely without incident; customers have since deplaned and maintenance teams are evaluating. Safety is Delta?s top priority."
That might seem harmless and it is important and good that all passengers were okay. From there, though, the wildness began in that Thunder players were sharing pictures and video from the damage to the nose of the plane.
The most visible instance came from Carmelo Anthony.
It does seem wild that this could happen while in flight and Thunder big man Patrick Patterson posited that Superman could be involved.
Josh Huestis was seemingly just confused.
Lastly, big man Steven Adams, who is always entertaining, wanted answers from prominent folks in the science industry.
The final answer may not be evident now but the Thunder are okay and this turned out to be a crazy night that simply ended with a 12:46 am arrival in Chicago.